Strike Out Arthritis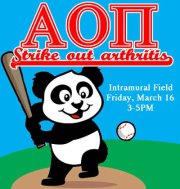 Last Friday was AOII's annual spring philanthropy, Strike Out Arthritis. As I mentioned before, our sorority's national philanthropy is the Arthritis Foundation, so all the money raised will go to Arthritis research, prevention, and care.
Teams of five traveled to the Rec center to compete in Pitching Accuracy, Home Run Derby, and my favorite, Dizzy Bat. Each person had to bend down and put their forehead on a baseball bat…and then spin ten times and run the bases. Needless to say, hilarity ensued. At least two people per team usually fell on the ground at some point and one guy even tried to run the bases in the opposite direction.
The best part of Dizzy Bat, though, was running it with the one and only Caitlyn Durning! See, last year, Caitlyn and I volunteered to run it because it seemed pretty easy, but we soon learned that Caitlyn was legitimately incapable of making it around the bases. I think I started crying because I was laughing so hard the first time she ever tried, because she took three steps and fell up a hill (since Strike Out Arthritis was outside last year). This year, though, Caitlyn conquered her inner ear problem and successfully ran the bases! (We have it on video and everything.)
So my Friday afternoon consisted of laughing at people tripping, eating baked goods, and dancing with my sisters to Call Me Maybe, all while raising money for the Arthritis Foundation. Why don't we do this every week?