IMPACT.
Tonight, I went to IMPACT, a symposium organized by the Speaker's Committee. This year's theme was Rise of the REst: WHat is the Future of American Foreign Policy?. The three night symposium came to a close after tonight's engaging discussion between former Governor of New Mexico, Bill Richardson, and the former President of Mexico, Vicente Fox.This part of IMPACT particularly piqued my interest because of a class in which I am currently enrolled. Public Opinion and Democracy in Latin America is a seminar course in which we analyze survey data from 26 Latin American countries in order to better understand the people's attitudes toward democracy. Yesterday in class, for instance, we studied how the economic crisis of 2008 affected general attitudes toward democracy and how this compared to other predictors, such as crime and education level.
President Fox and Governor Richardson were engaging and professional. They spoke about the economy, immigration, and the hot-button issue, drugs. I really enjoyed the discussion on the drug war simply because Mexico has become infamous for its role in the drug trade and I was interested in understanding the issue from an educated Mexican point of view.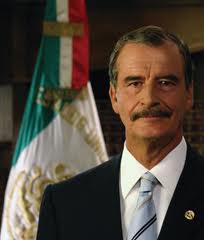 President Fox made a few good points on this issue. He claims that Mexico is trapped between the producers of Central America and Colombia and the consumers of the United States. He said that Mexico does not produce heroin or cocaine and the amount of marijuana that they export is only 1% of that grown in the state of California alone. He also mentioned that Mexico does not have laws against consumption because consumption is not the problem, especially when compared to trafficking. I sympathized for his country, and I was truly enlightened by his words.
Governor Richardson also made many good points about all of the issues discussed, and it was interesting to watch him, an American who supports and cares about Mexico, interact with the former President of our southern border nation.
As a pre-med student, I often forget about the importance of politics and international relations. It was also so cool to see the overlap between the classroom and the rest of the scholarly community. IMPACT 2012 was a huge success.