Grins Vegetarian Cafe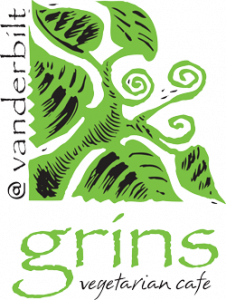 Considering I ate at Grins three times today, I figured I should blog about it.
Grins is the vegetarian, kosher café on campus that is across from Memorial gym. I don't think I actually ever went there freshman year, because I just didn't know a lot about it and usually ate lunch at Rand. This year, since I live in Highland Quad, I walk by Grins a lot and decided to try it with a few friends who had been there before.
Of course I loved it! They have a bunch of wraps, paninis, salads, and different sides every day. One other random thing I love about Grins is their citrus water! Haha I know that sounds super snobby, but it's actually really good.
Normally for breakfast at Grins I get the Nutella Panini (nutella!), but I was feeling adventurous this morning and got the tomato/parmesan quiche, while my friend got the mushroom quiche. After studying Orgo and stopping by Cameron Middle School for Big Brother Big Sisters, I ran by Grins to grab a Greek Row Salad. The best part of that salad is definitely the hummus, which they makes themselves. Lastly, for dinner, I got the Mexicalli wrap with salsa and bean salad on the side to go.
Not only does Grins taste amazing, but I feel healthy afterwards. Don't get me wrong, I love a good Tortellini Tuesday, but it can sometimes leave me feeling wayyyy too full. Grins offers a good variety of fruits and veggies, a fun café environment, and is on the meal plan. If you ever visit campus, definitely stop by!