Break's Almost Over :(
Spring break is nearly over (sad face), but it's been great so far! It's really been the break of new experiences for me!
For break, my friends Carly, Abby, Nick, and I are in Ormond Beach, Florida at Carly's house. (I'd never been to Florida before, so that's the first of the firsts for me!) We got in on Saturday night, and unfortunately I was sick Saturday night and all of Sunday (not the best way to start off break, I know. But Carly's mommy took good care of me!) By Monday I was feeling much better and we all went to the beach! Before this I'd never even seen the Atlantic Ocean (Being from California, the Pacific is all I know), and so I got to go into the Atlantic for the first time!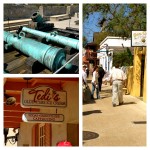 Tuesday we drove to St. Augustine, to see the fort, eat lunch, and just wander around–it was such a beautiful day and we even got ice cream cones! (Never seen a fort before–another new experience!)
And then, on Wednesday, WE WENT TO DISNEY WORLD.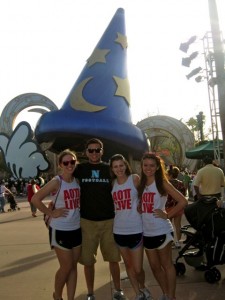 It was the best day ever. Seriously. Lines weren't too long, and we got to ride Space Mountain five times! Being the Disneyland lover that I am, it was cool to see how the rides that are in both parks are similar/different. Now that I've been to both, people have been asking me which of the two I like better: Disneyland or Disney World. I've decided that I need to appreciate the two as completely separate entities–basically, I love them both. Someday I'd like to spend as long as I want in all of the different parks in Disney World so that I can do EVERYTHING. One day wasn't nearly enough, but it was a great first visit!
Yesterday we went to the beach again (my favorite pastime, really.) and just relaxed and watched movies after we got back. Today, after a failed attempt to go tubing and waterskiing (it was pouring down rain) we have spent the day watching Water for Elephants and Carly and Nick are currently involved in a ping pong death match (it's getting preeeetty heated.).  All in all, it's been a great, relaxing break and I'm sad it's almost over–but I'm going to make the most of these last couple of days!