Vanderbilt Hockey
It's around this time of year that I get a little homesick for the North.  Although I love the South dearly, winter sports just isn't their strong suit down here!
I grew up about five minutes down the road from my town's very own ice skating rink.  I spent many hours in middle school taking figure skating lessons and watching my friends play on their travel hockey teams.  Needless to say winter sports have always been a big part of my life.
My love for hockey grew even more at boarding school.  While some schools treat their football teams or basketball teams as royalty, the prize winning athletes at my high school were usually the lacrosse players but ALWAYS the hockey players. This probably had to do with the fact that we had a lot of Canadians come to our school for our hockey program, so we were pretty good as a team, but regardless, I found that I loved to watch the sport.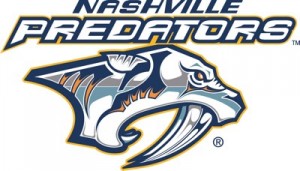 The Predators, Nashville's official NHL team, is an excellent outlet to get my hockey fix–they're the obvious choice; however, I found a solution a little closer to campus and a little more in my budget.  This year a lot of my friends have gotten involved with the Vanderbilt Club Hockey.  It's a fairly new program that has recently been getting very serious about trying to play some quality hockey on a fairly competitive level.  They have home games just about every weekend and even some away games at other schools.  In fact, the team qualified for regionals this year for the first time in their twenty year history, but had to respectfully decline the invitation for a number of reasons.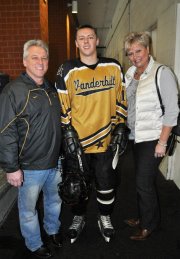 Anyway, a few weekends ago, I decided to go and see my first Vanderbilt hockey game.  They were playing Ole Miss, another very Southern school, so naturally I was curious to see how good Southerners really are at hockey.  Unfortunately, we lost the game (2-7), but there were a ton of Vandy supporters and students in the crowd cheering our team on and chirping Ole Miss just as passionately.  Chirping, or calling out specific members of the other team to get under their skin, is one of the best things about hockey games–other than the fights, of course!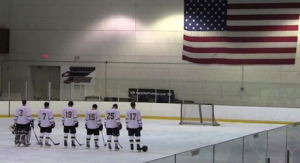 Anyway, it was a great experience.  I brought a lot of my friends–northerners and southerners alike–most of whom had never been to a hockey game before! We got all bundled up, grabbed some hot chocolate to keep warm, and even bought some VU hockey t-shirts (see below).  If you ever get the chance, definitely go to a Vanderbilt hockey game.  We're a bit better at hockey up North, but it was definitely still pretty entertaining!