Predators Game!
This past Thursday night was College Night at the Predators hockey game at Brigestone Arena.  Some friends and I took advantage of the discounted tickets and made a night of it!
The Predators' College Night involves getting tickets to a Thursday night home game for either $15 or $25 dollars with your student ID.  We bought our tickets a few weeks ago in anticipation (and so we could get good seats) at the Sarratt Box office here at Vanderbilt.  The box office here is super convenient for getting tickets to shows and events not only at Vanderbilt but in the surrounding area as well–and for certain events there's a student discount!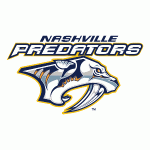 On Thursday we all met at Jason's Deli, a delicious deli (obviously), for dinner before the game.  While it's not part of Taste of Nashville (though I wish it was…), it's not too pricey, and definitely worth spending real money.  My favorite thing to get there is the taco salad, while my friends prefer sandwiches such as the BLT or Club.  Pretty much everything there is good.  (They also have a soft-serve ice cream machine that's free for after you eat.  yum.)  After dinner, we headed back to Branscomb to catch the Yellow route of the VandyVans, which takes you downtown on weekend nights.  We didn't actually take it though, because after waiting for ten minutes we decided just to take a cab instead.
We got to the arena just as the game was starting (perfect timing), and watched the Preds take on the Blues for the next three hours (The game was tied, went into overtime, and finally ended with a shootout.) Sadly, the Preds didn't win, but that was the first time I've seen a hockey shootout, so that was cool!
We did take the VandyVan back to campus though! It was super easy to catch, and riding it was definitely easier than finding a cab to take us back to Vanderbilt!  I'd never taken it before and was surprised by how easy it was to find on Broadway.  Overall, it was a fun night, and even though I'm not the greatest hockey fan ever, I had a great time!