ESPN Gameday Part 1
In case you haven't turned on ESPN within the past week, I'm here to let you know that College Gameday will be filmed from Vanderbilt's Memorial Gym this Saturday, for the first time in school history! As your unofficial sports blogger, I hope that you know me better than to think that I would miss any part of the festivities.The Gameday events kicked off last night, with the Vanderbilt Women's Basketball game against eleventh-ranked University of Tennessee. Students were allowed to line up at 2 pm, and the doors opened at 6:30. When we were finally let in, we were given a sticker for our Commodore cards. This sticker was exchanged for a wristband at the end of the game. The wristband gives us priority access to the actual filming of College Gameday, which is on Saturday at 9 AM (Make sure you set your DVRs, so you can look for me and show all of your friends!)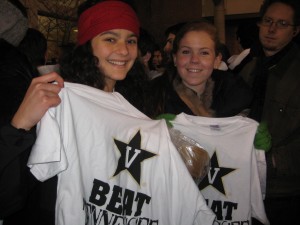 The Lady Commodores destroyed the Lady Volunteers, by a score of 93-79. This snapped the Commodores' seven game losing streak against their in-state rival. Despite all of Tennessee's struggles both on and off the court, the win was as meaningful as ever. The Commodores looked great!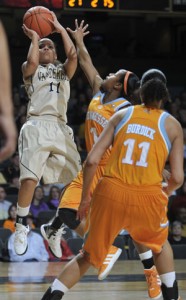 I had a great time at the game. Vanderbilt Athletics provided an interesting half-time show. I'm not entirely sure what to call the performers, but basically, they were a couple who magically changed their clothes. It sounds peculiar, but it was actually pretty cool. The best part of the night, though, was when I received the Papa John's Delivery of the Game. My friend, Sumner, and I split the personal pepperoni pizza. It was the perfect cure to the mid-game munchies.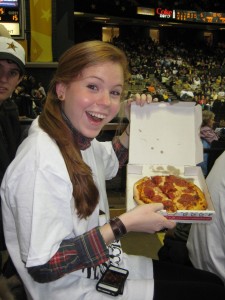 Stay tuned for more on my quest to the Vanderbilt-UK game. Don't forget to tune in Saturday morning at 10 AM on the east for Gameday and the actual game at 9 PM eastern.