Delta Lambda Phabulous!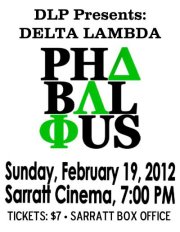 This Sunday night was the second annual Delta Lambda Phabulous variety show, which AOII won with our hip hop dance!
Delta Lambda Phabulous is the philanthropy event hosted by Delta Lambda Phi, a fraternity for gay, bisexual, and progressive men. All of the proceeds of the event were donated to Nashville Cares, a non-profit organization that provides education, advocacy, and supportive services for people affected by HIV/AIDs in the Nashville area.
The night started off with refreshments and mingling, before the real competition began. Each audience member was allowed to vote for one act at the end of the night, and after each performance two judges gave a few words.
VIDA performed a salsa dance, Original Cast a song from West Side Story, and five or so sororities a dance or skit. We had been working on our hip hop dance for the past few weeks so it was fun to pull it off so quickly (which was all because of Allyson, our brilliant choreographer!).
At the end of the night, a professor spoke about HIV/AIDs awareness and prevention for a few minutes and then the brothers of Delta Lambda Phi performed an impressive dance. It was definitely my favorite philanthropy event of the year!
Here's a video of our dance! (The music is off from the dance btw…I'm not tech-savvy enough to fix that) My favorite part is around 1:00.