Commons Dining
So….as y'all know by now, I love to eat….and one of my favorite places to eat is the Commons.
The menu changes daily, at each of the different stations in the Commons Dining, and it is the same each week- for example, every Tuesday, one of my friends goes and gets the Commodore Tso's Chicken at the Wok Station! She has dreams about it… that's how obsessed she is.
Anyways, here is a little bit about all of the diff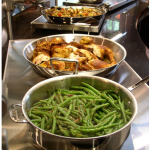 erent stations!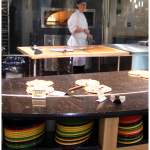 -Brick Oven: specialty made from scratch pizza, pasta.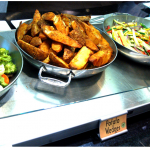 -The Chef's Table: my personal favorite. They have all sorts of incredible entrees and sides- salmon, grilled chicken, Moroccan Vegetable Stew, stir fry, grilled veggies, potato wedges, rice…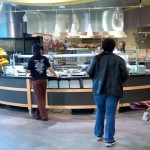 -The Grill: this is the same every day, including a rotating special. It has a full breakfast including omelets, waffles, eggs, oatmeal, and more.  Lunch includes burgers and chicken everyday and a rotating menu of BBQ sandwiches, po boys, falafel, salmon club and steak sandwiches… YUUUUUM!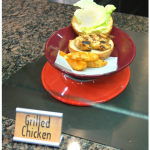 -Center Island: this is also the same every day, except they put in different pasta salads or wheatberry/bean salads and things like that. It has a full salad bar, made to order deli sandwiches and wraps, two soups which change daily, and made to order omelettes!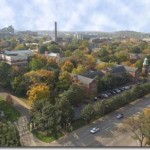 -Pastries & Sweets: cookies, cakes, pudding, cupcakes, berry cobbler, pie, creme brulée….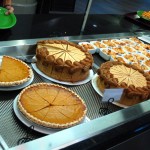 -The Wok Station: this serves all types of stir fry and authentic dishes, such as Mongolian Beef, Vegetable Tempura, and the famous Commodore Tso's Chicken!
-Sizzle: Every Tuesday and Thursday, this specialty station has fajitas and other items. YUM.
-Deli & Soup: Made to order sandwiches and two soups of the day (it is in the Center Island!)
What is even cooler about our dining is that they hold special events for us. Each month they hold a Birthday Night, where we get to decorate cupcakes. Tomorrow night is the Commons Ball- the theme is Viva Las Vandy- and incredible night full of games and delicious food- and it is on MEAL PLAN! I'll explain Meal Plan next time!
Be sure to check out all of the other awesome spots around campus. Speaking of food… it's lunch time right now…. what shall I eat today?!