Applying for VUcept
So this year I have decided to apply for a position as a VUcept leader!  Who knows, I might get my own group of little freshmen next year to guide through orientation and their first semester!
It's that time of year again when I have to start planning ahead for next year.  Tons of my friends are looking into going abroad or taking a Maymester, but right now I'm focusing on my plans for next fall!
A lot of schools have orientation programs for incoming freshman.  Many of these programs are just what you'd expect: a camping trip two weeks before school starts to promote small-group bonding, or the usual first week of school boot camp situation where you spend your time playing the name game or whatever.  Vanderbilt has taken a new approach to your typical first year orientation away at college: VUcept.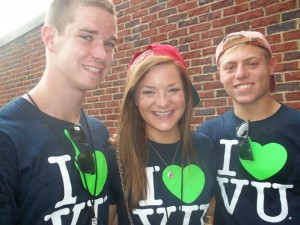 VUcept is a comprehensive program that combines new students, returning students and teachers all into one.  The freshmen have the benefit of not only getting to know their peers, but they're also introduced to older students and professors who are dedicated to providing them with support as well as their own unique perspective on the school. The program begins in the first week of school with activities such as scavenger hunts to familiarize students with the campus, the Founders walk to show off the freshman to the rest of the student body, and the run across Dudley Field at the first football game.  However, VUcept doesn't end there.  Your freshman orientation experience continues throughout your entire first semester with your Vanderbilt Visions group, where your orientation group meets once a week with your VUcept leader and faculty adviser.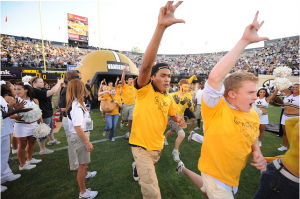 I thoroughly enjoyed my VUcept/Visions experiences and have continued to remain close with the friends I made in my orientation group.  After watching many of my friends be VUcept leaders this year and LOVE IT, I decided to apply and see if I make the cut. (Wish me luck!!!!)
So, to all you pre-frosh reading this out there right now…keep an eye out for me next year, I could be your VUcept leader!