Candy, Candy Canes, Candy Corns, and Syrup
Today for Reading Day, there weren't any classes so my friends Carly, Lauren, Abby and I went over to our other friends' Lewis suite for studying, movie watching, and general merriment.
Around noon today, we stopped by Starbucks for a "morning" coffee before heading over to Lewis House on Highland Quad (a residential area on campus).  We spent the day in our friends' three-person suite, just hanging out, listening to Christmas music, and studying for our finals.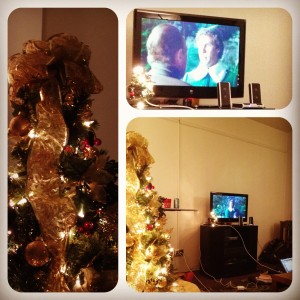 After hours of studying, productivity decreased somewhat and we took a break to explore the suite, since we want to live in one of our own next year.  After snooping around and thinking about how we want to decorate next year, we resumed our studies for a while longer, before taking a break and watching a Christmas classic–Elf, of course.  We ordered chinese food from Best Wok (on the Commodore Card!) and it was deeeelicious.
Now we're studying again (and making fudge!) and just enjoying the Christmas-y atmosphere.  So yes, we're stressed, but there's always a way to make studying more enjoyable.  (I am definitely a fan of fudge-breaks.)  It's possible I'll regret taking so many breaks later on tonight, when I'm trying to finish this ten-page political science paper, but probably not.  It was most definitely worth it.