Summer in Retrospect
Time to go back to school. It seems like summer went by so fast, especially because I started my internship May 22 and ended August 5. During that time, I worked from 8AM-5PM, went and worked out, showered, ate dinner with my family, and then went to the Muny on Monday nights (outdoor musical theatre in Forest Park), or hung out with my friends for a bit, and went to sleep on the early side, because of my 7AM wake up time. On the weekends, I went out with my friends, went to the world famous St. Louis Zoo (I love the zoo! I neeeed to go to the one in Nashville) with my family, or other activities, and went to LOTS of St. Louis Cardinals games.
One weekend, my friends from high school and I went to Dreyland, which is land in the Ozarks owned by our school, and it is where we go as 7th graders, 9th graders, and seniors. It is a camp, with 10 cabins (no electricity) , 5 for girls, 5 for boys, a lodge with running water and electricity, bathrooms with water and electricity, and showerheads with freezing cold water. There is a firepit and logs around it, a volleyball net, and a few paths that lead down to Sinkin' Creek, where there is a gravel bar. In 7th grade, we go in late September for bonding exercises, nature walks, and to get acquainted with ourselves and each other. As 9th graders, we go in the spring for Bio Dreyland, where we do experiments and complete huge packets of biology work. It is soo much fun but SO much work!! Senior year, we go for a last hurrah, one of the last weekends in August, and we get to choose what meals we have, what faculty members accompany us, and we also¸ get to plan the agenda. I love Dreyland so much, although senior year I got horrible poision ivy all over my legs and had to go on steroids and wear pants the first few weeks of school…bad memories.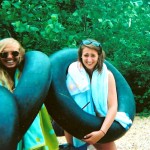 So, Burroughs lets alumni rent Dreyland for $1, because technically it has to be an exchange of money. They also welcome any donations, so my friends and I booked Dreyland (we got the only free weekend all summer), and we headed down. A few of my friends who didn't have work on Fridays went down early in the day, picked up groceries, and turned on the electricity. One of my friends and I drove down as soon as we got off of work, at 5PM, and got to Dreyland just before it got dark! We spent the weekend making s'mores, swimming and floating in Sinkin' Creek, and just hanging out in a place where we had grown up. We always etched our names in Sharpies on the pavilion and cabins each time we were at Dreyland, hoping to make a permanent mark on the place, and become a part of it just as the thousands of kids who had passed through before us.