FOOTBALL
I love sports. When I was younger, my dad would quiz me, on the way to swim practice, about football, baseball, and hockey teams. We would play "What, Where", where he would say the team and I would have to name the city, and vice versa. I got to know all of the teams pretty well, and when my little brother came along, I knew them even better.
So when I was choosing a college, I wanted one with big time sports. I looked at several other schools similar to Vanderbilt, but when it came down to it, Vanderbilt was the perfect school for me, and it has SEC sports. That being said, football season is upon us…and that means not only football games, but also, tailgates.
Vanderbilt, to me, is a school full of tradition. From Founder's Walk (which will happen in just a few days), to tailgating in sundresses before football games, we love our traditions. And this year, with Coach Franklin, I know that even more traditions will be started.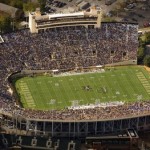 I've been told that we have one of the top recruiting classes in the nation. We may be the smallest school in the SEC, and the only private university, but that makes us unique and an makes it even more incredible that we are in the SEC, one of the toughest conferences in college sports.
I've said it before, and I'll say it again… I'm so proud to be a Commodore. BLACK & GOLD.