College World Series
As promised, my next post. Sorry to have kept y'all hanging…As soon as I knew that I was interning for Rawlings this summer, and after they told us that they would be taking the interns to the College World Series, I called my good friend Connor Harrell, who is the starting center fielder for the Vanderbilt Baseball Team, and told him that I would be there. We danced around the topic of how incredible it would be if Vandy would be there as well! As the team kept winning and winning, I started to realize that it was a real possibility.
We left for Omaha, Nebraska, on June 19, at 9 AM, driving up in a van with 4 other interns and 2 of our bosses. My friend Lauren, who I knew before the internship, was in my group for the trip, as well as 3 boys, one of whom I knew, because we work in the same department. We were the group that was heading up for the first week of the CWS, and a second group of 5 interns would switch with us for the second week.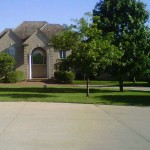 We began the car ride from St. Louis, and realized that it would take about 7 hours (longer than expected) because of the flooding that was destroying farmland all over the Midwest. When we finaaally arrived, we drove straight to our house in Council Bluffs, IA, that Rawlings had rented for us. We drove into a nice, isolated, quiet subdivision, and at the end of the road, we turned into a circle drive- home sweet home. We piled out of the mini-van (I've never been so happy to be out of a car in my life- sitting in the middle seat in the back row for 7 hours = not so fun) and brought our bags into the house. Three other Rawlings employees were already there, and they welcomed us into the house. Tim, who is in charge of Event Marketing, told us that he would have breakfast and dinner catered for us every night, and most days we would get lunch together while working the Fan Fest. Tim gave us the full house tour- Lauren and I would be sharing a bedroom, and the three boys would be sharing a loft bedroom. Aannnddd we all 5 would be sharing a bathroom….
After we got settled, we all went downstairs to the basement. PaRtY TiMe. This basement was completely decked out. Pool table, foosball table, air hockey table, shuffleboard, a full bar, arcade games, and even a motorcycle. Tim told us that the owners of the house told him that there were exactly 27 miles on that motorcycle, so they would know if we took it out for a spin… bummer. Outside, there was a pool, and garage full of toys. We headed outside for a little game of what else- baseball.
I was throwing 100 mph fastballs with a tennis ball. Look for me next year, I'll probably be a starting pitcher…
After my star debut, we played Sardines until almost midnight, and then called it a night because we knew we would have a long day the next day…………..