Back 2 School
SCHOOL TIME. Summer flies by, and then it is time to go back to Nashville… hallelujah. I am so excited to be back I can't even stand it!! My sister said to me the other day that she has been so busy focusing on moving to Nashville and going to college that she almost forgot the real reason that she is going—to go to school!
These past 2 weeks have been a little hectic with getting everything ready, but that is probably some of my favorite time spent with my family- all of us running around St. Louis getting ready for school. I make tons of lists with everything that needs to get done, and slowly but surely, items get checked off.
We always make a huge Target run, getting toiletries and other various items, and then we naturally have to go to Office Depot for back to school shopping. Missouri has tax-free weekend, on all school supplies, clothing, and electronics, so we always do a lot of shopping that weekend!! I have my school supplies down to a tee- I use an accordion folder for all handouts from all 5 classes, and a five subject spiral notebook to take class notes in. For other classes, like my Constitutional Law class that I took last year, I had to take notes on my computer in order to be able to cross reference them with my class notes, otherwise I would have been at a huge disadvantage. I have tons of notecards, because I make notecards for all quizzes and tests, along with big study guides.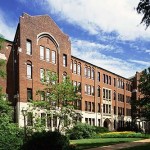 Getting back into the groove of school is never easy, but Vanderbilt eases us into it. Our first day of class is Wednesday, August 24, and then we have a drop/add period for a week, so we can decide if we want to stay in the classes, or choose different ones. Bring on Junior year!!