Just the Break I Needed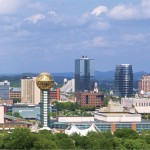 When I said goodbye to my friends last Friday, I knew we'd all come back with good stories from our spring break adventures. A bunch of my friends went on ASB (Alternative Spring Break) and travelled to random parts of the country to participate in community service, while another went to the mountains of North Carolina to hike and build a house for Habitat for Humanity. I was planning on coming home to Knoxville to rest, catch up with friends, and most importantly, go skydiving!
My friend Blair and I had originally scheduled it for last weekend, but then all the terrible weather flooded the company's runway so we rescheduled it for this weekend. Of course, more storms rolled through Knoxville this week and the company had to cancel again. I was pretty disappointed at first, but I still had a fun, eventful time at home. Some highlights include seeing my high school's play, going to Zumba at the Y, watching tons of movies (seriously, if you need a suggestion, I've seen pretty much everything at the theaters right now), and attempting to dye a few purple streaks in my hair. I say "attempt" because the final product is barely visible; I think more dye ended up on the floor than in my hair, considering I dropped the bottle halfway into it. So while my spring break definitely turned out differently than expected, I still have a few good stories to share tomorrow when I'm reunited with my Vandy friends finally!