A Non-Traditional Thanksgiving
Early November, my Thanksgiving Break plans looked something like this:
Spend time with family

Catch up with old friends

Start applying for summer internships

Get lots of sleep

Enjoy the timeless Thanksgiving dinner

Hide inside from the cold

Drive about 12 hours to Dublin, Ohio and back
My actual Thanksgiving Break went a little more like this:
Sent my family a few emails

Made many new friends

Volunteered at a school and orphanage

Got a little sleep

Enjoyed many unique meals (with lots of tropical fruit)

Spent hours outside in the sun

Travel about 32 hours to La Ceiba, Honduras and back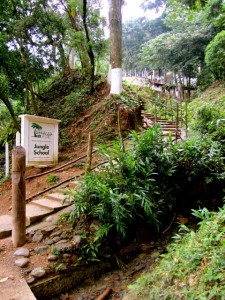 I believe that when an opportunity presents itself, you should say yes. Yes, yes, yes. A last minute spot was offered to me on a Manna service trip when a former participant could no longer go.  Once I received my parents support, it took less than 5 minutes for me to decide to give up my Thanksgiving plans at home to travel to Honduras. (Here is another link about Manna Project International)
As volunteers we worked with the non-profit organization Helping Honduras Kids (HHK).  In the mornings we provided manual labor at the Jungle School.  We hauled sand, bricks, cement and other materials up the hill to the school to help construct a new classroom and fix sidewalks.  About 80 children, most from poor economic conditions, attend this free, private school. For some of the students, the hot lunch they receive is their only healthy meal.
After physically challenging work, we would eat lunch before taking a much needed swim in the Congrejal River to cool off.  The afternoons were spent with children in the Hogar, or the Children's Home.  Reading, drawing, playing games, dancing, singing and more.  Within a few days we genuinely felt connected to these kids.
Highlights from the week:
Watching the new Harry Potter movie with the older children (in Spanish subtitles of course)
Attending the Kindergarten and 8th grade graduation at the Jungle School.
Going to a fiesta at the Hogar for children with a birthday in November.
Watching the children put on a talent show. (We participated too with a funny dance to Shakira)
Our breaks from service: exploring a Honduran beach one afternoon, rafting down a river through the jungle Thanksgiving day, and exploring the local markets.
Painting a mural on a concrete wall at the Jungle School.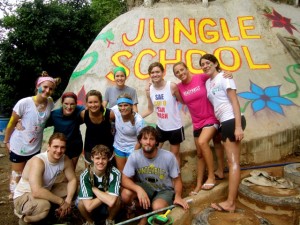 It's amazing how much one can experience in a week.  This list should be longer and the details I could add are endless. In general, the capacity children have to love is inspiring.  Many of the children we met in La Ceiba were orphans, with shocking backgrounds of struggle and abuse.  These kids, as well as the volunteers and caretakers were so compassionate and truly inspirational.  While providing help and making changes for them, I changed as an individual, gaining new appreciations and a sense of awareness for international service.
This was an actual break from my life.  New country, new culture, new people, new experiences.  (The only thing that was the same was the Central time zone!) Don't get me wrong – I missed my family and the highly anticipated turkey, stuffing, and pumpkin pie.  But Thanksgiving break – a holiday focused around being thankful and appreciative – was the perfect time to give back and serve others.  This experience also gave me time to reflect and add to the Thanksgiving question "What I am thankful for?"
Today we received this touching email from Eddy Barillas, Sponsor Representative for HHK:
"… You guys have all left a permanent imprint in all these kids hearts, minds and souls which will never be forgotten… I thank you kindly for the great role models that you are and I hope that these kids can one day follow in the footsteps that you have left here. Thank you ever so much."
To conclude, I will give a shout out to Tyler and Will, seniors who – by the time they graduate – will have volunteered with HHK in La Cieba five times.  While this was only my first international service trip, I am, without question, so thankful for this Thanksgiving break.