What We Look For In An Application
If you are a senior reading this blog post right now, you are most likely relieved that your application is complete and submitted, but you also may be wondering what is happening to that application, now that it is safely in our office.  If you are a junior or a sophomore, you might be building or paring down your college list and wondering what it is that each school you're considering values in a prospective student.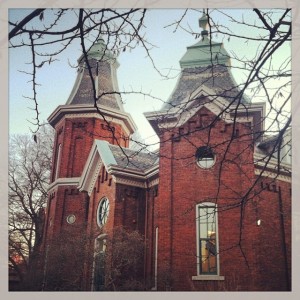 One of our most important missions here on the admissions blog is to lift the veil of mystery and let you in on the answers to questions just like these. Below you will find an outline of the five major components that each of our admissions counselors looks for and values in a Vanderbilt application.
Academic achievement: As we employ our holistic application review process, our first priority is to ensure that students are academically prepared to succeed at a rigorous institution like Vanderbilt.  The official high school transcript and Common Application School Report are the primary tools we use to gauge academic achievement.  We are looking for students who have challenged themselves with a rigorous curriculum and performed well in those classes.  As always, context is king, and our assessment of your curriculum, grades, GPA, and class rank, will all be done with the understanding of what is offered and permitted at your particular high school.
Standardized test scores: While your transcript gives us some insight into how well you have performed in comparison to your closest peers (the other students at your high school), your performance on standardized tests will tell us how well you have performed in the greater context of all high school students across the globe.  The Vanderbilt student body is incredibly geographically diverse, with current undergraduate students from 49 US states and over 50 countries, and your SAT and/or ACT scores help give us an idea of the academic force you might exhibit when you are all in a classroom together.
Extracurricular involvement: Of course Vanderbilt is not just a collection of classrooms thrown together on a campus, but a vibrant community of service, athletics, performing arts, culture, religion, music… and the list goes on and on.  Once we have ensured that you will be academically competitive in our process, we look to see what else you have been doing throughout your high school years.  We do not value any one particular type of involvement over another – we want to build a community of students with many diverse interests – but we are looking in every case for both commitment of time and effort, and strong leadership skills.
Personal essay: At this point we know what kind of student you are, how good of a test taker you are, and what types of things you have been involved in on your campus and in your community… so what else do you think we should know about you?  The personal essay is your chance to answer that question.  Regardless of which prompt you select, we are looking at this portion of your application to learn more about what skills, character traits, points of view, or life experiences you would bring to the Commodore community.
Recommendation letters: The final element required of all Vanderbilt applicants is a set of three recommendation letters – one from your guidance counselor, and two from core subject area teachers, typically from your junior or senior year.  In most cases, these letters serve to support all of the other pieces of your application and reaffirm what we've seen in your transcript, test scores, extracurricular activities, and personal essay.  It is certainly one thing to hear how you describe yourself as a student, person, and community member, but we also want to hear from your academic and personal mentors to learn their perspective on your achievements.
And that, my friends, is what we are looking for as we dig around in your Vanderbilt application.  If you read Jay's post on positive advocacy, you know that our role from here on out is to be your personal cheerleaders, finding and highlighting those unique elements of your file that will demonstrate what you would contribute to our community as a Vanderbilt Commodore.
As always, if you have further questions about your application or our evaluation process, feel free to reach out to your own cheerleader: your admissions counselor.