Spring Visit Options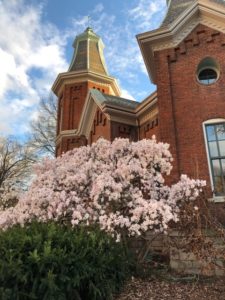 Spring has sprung here in Nashville! For students at Vanderbilt, spring means that Rites of Spring and  final exams are on the horizon. For juniors and seniors in high school, spring is a time to start ramping up or wrapping up the college search process! Usually this means many visits to college campuses. Here are some of the ways you can visit Vanderbilt in the coming months:
Daily Information Session and Tour
This is our most common visit option. It includes an hour-long information session led by one of our admissions counselors and is followed by a student-led 90 minute campus tour. In the spring we offer multiple daily information sessions and tours a day, including Saturdays when classes are in session. This is one of our most popular times of year to visit, so make sure you sign up online ahead of time!
'Dore for a Day
'Dore for a Day gives you an opportunity to experience an afternoon as a Vanderbilt student! You will spend 1:00 p.m. to 4:00 p.m. with a current student eating lunch and attending a class. Please note that from April 5 to April 23 spots in the 'Dore for a Day program are reserved for students admitted through the regular decision process or on the waitlist. From now until April 4 you can register for 'Dore for a Day online. After April 5 you'll need to email doreforaday@vanderbilt.edu to register.
Visit a Class
We know that one of the most important factors in choosing a college is the academics, so one of our less formal visit options allows you to sit in on a class while you're on campus. We have a list of class options here, but make sure to email the professor ahead of time. You'll want to make sure it's a good day to visit and not a day when you'll be watching the students take an exam!
Since Vanderbilt students (and therefore prospective students!) come from across the country and across the world, we know it can sometimes be difficult to make the trip all the way to Nashville. Luckily, you can still get a feel for campus using our virtual tour. Always remember that Vanderbilt does not take demonstrated interest into account in our admissions process, so whether or not you visited campus will not have an impact on your admissions decision!
We look forward to all the visitors we'll see on campus this spring and, as always, feel free to contact your admissions counselor if you have any questions!