What Should I Major In?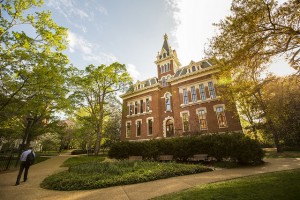 "What should I major in?" As an admissions officer, this is a question I frequently get from high school seniors in the college search process. Well-prepared high school students have nearly endless opportunities in front of them, and that can be a bit overwhelming at times. But have no fear; the Vanderbilt Admissions Blog is here! While we can't tell you what you should major in, we can certainly give you some perspective to help you in the process.
At this point in the process, selecting a major shouldn't be a cause of concern; in fact, this should be an exciting moment! You have this wonderful opportunity to find your passion and establish a firm foundation for yourself.
As a high school senior, I can recall using the dreaded process of elimination to finalize which major was appropriate for me. I asked questions such as: How much money can I make? Will I find a job? Would this make my family proud? And, again, how much money will I make? Sadly, I neglected to ask the most crucial question— "Keldrick, what is your passion?"
Now that I work in the wonderful world of admissions, I'm the one giving advice when students ask, "Mr. Stephens, what should I select as a major?" I think my experience has given me some insights to help students asking this question.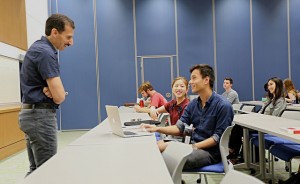 Think of it like this: Your major is one area of specialty within your overall academic experience. College allows you the academic freedom to immerse yourself within an environment to think, grow, question, and LEARN! On college campuses, we call this process research. As you learn, you begin to ask questions that need answers; what better way to answer these questions than by delving into the problems yourself? So, in your college search process, ask what the options are at the schools you are considering. Do they offer a liberal arts curriculum? Is engineering an option? Are there opportunities to study in an academic area outside of your chosen field (for instance, the way some non-music majors at Vanderbilt take classes at the Blair School of Music)? Explore the majors a school offers, especially if you are already seriously interested in a particular field.
As you navigate through college, you will take various courses that will move you to dig deeper. If you like music, you may want to research and learn more about classical music. If you enjoy politics, then immerse yourself in understanding how to serve in the political arena. The list can go on and on. Eventually, your research and coursework should help you discover and refine what you are passionate about studying.
It's also important to remember that your college major doesn't set your future career path in stone. In fact, many majors have quite varied career outcomes. For instance, at Vanderbilt, students majoring in anthropology have gone on to careers in medicine, law, community development, business, and other fields, as well as – you guessed it – anthropology. In other words, if you discover you are passionate about anthropology, but you always wanted to become a doctor, you don't have to choose. This is all the more reason to study what you are passionate about. Furthermore, when it comes to jobs, you'll want to check out your potential college's Career Services Department to see how they assist students with their transition into the "real world."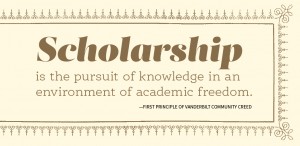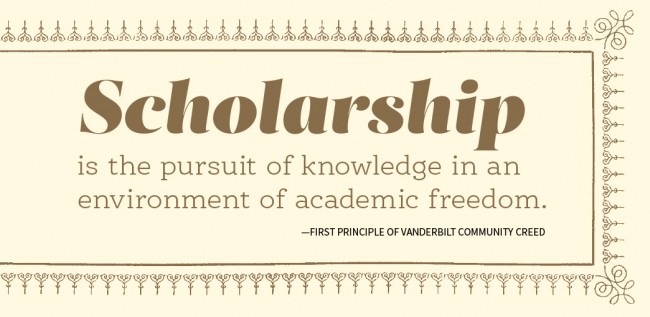 To sum this all up, you shouldn't ask, "What should I major in?" That is way too simple! Instead, think as a concerned citizen of society. Ask yourself: What am I passionate about? Where can I make a difference? How can I use my experiences to improve my community? How can I impact the global community? Once you begin this process, then you can see which colleges offer the resources that you need to be successful. Also, by probing these types of questions you will see where you "fit" into the spectrum of majors. Of course, you may notice that your passions overlap with multiple majors; that's okay! At Vanderbilt, we encourage our students to explore their academic passions; that might mean selecting an interdisciplinary major, double majoring, or minoring. We want you to be successful in your pursuit of knowledge. And, what better way to pursue knowledge than by pursuing your passion.
Go explore! Be passionate.