Fall Campus Visits: Everything You Wanted to Know and More
When it comes to the college search and selection process, high school students are armed with a wealth of information from myriad sources. University and admissions websites and brochures, college guidebooks, national rankings, college fairs, advice from counselors, parents, siblings and friends – and that guy that lives down the street who absolutely loved his time at his alma mater – all of these are valuable in the process of finding and applying to a school that will be a good "fit" for you.
At the end of the day, however, there is no better way to discern this "fit" than by going to see for yourself.
Because of this, we encourage all students, no matter where they are in the college admissions process, to take the time to visit our campus.  With the school year in full swing and holiday breaks approaching, I want to take this opportunity to answer some of the most frequently asked questions regarding our campus visit opportunities.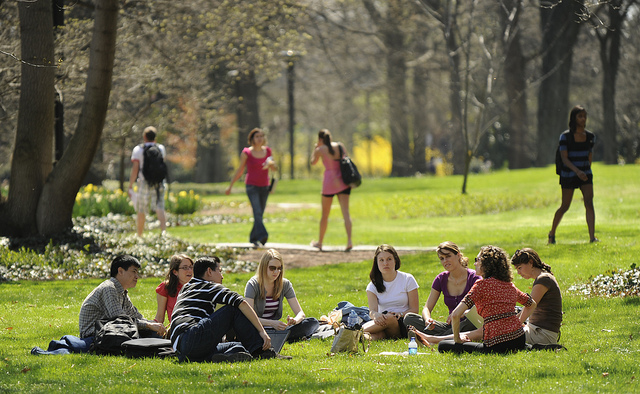 How should I prepare for a campus visit?
Research, research, research!  Take some time to explore the university and admissions websites to answer as many of your questions as possible before you arrive on campus.  If there are specific areas of the school – student life, faculty relationships, testing policies, etc. – you would like to know more about, make a mental note to ask about them while you are here.  Most importantly, make sure you have registered for the program you plan to attend online well in advance of the date, and do not make any travel arrangements until that registration has been confirmed – many of our programs fill quickly after the dates and times are posted, and we want you to avoid any sticky logistical issues that may arise from nonrefundable plane tickets or hotels booked for the wrong night.
What types of programs do you offer this time of year, and how do I know which one to attend?
If you have never visited campus before, I suggest planning to attend one of our daily information sessions and tours, which typically occur at 10:00 a.m. on weekdays and Saturdays, with some additional sessions scheduled for 1:00 p.m., depending on the time of year.  These events involve a one hour info session with a member of our admissions staff, who will discuss academics, student life, and the application and financial aid processes, followed by a 90 minute campus tour led by one of our student tour guides.
Tips and tricks: We have managed to pack a lot of information into a short time period, so bring a pen and paper and make sure to jot down some notes on what you hear – especially if you are making multiple campus visits throughout the year.  The last few minutes of both the info session and the tour will be dedicated to questions from students, so have them ready, and don't be afraid to ask!
'Dore for a Day is a good program for those who have already toured campus or heard an information session, or would like to get a more in-depth idea of what Vanderbilt is like for students on a day-to-day basis.  Through this 3-hour afternoon program, you will be matched with a current student who will take you to lunch on campus and to an afternoon class.  'Dore for a Day is great for students who already know the "facts and figures" of Vanderbilt and want the chance to wander campus a bit more freely and live for a few hours in a college student's shoes.  It's also a great opportunity to talk one-on-one with a current student and ask the important questions – you know, the ones you don't want to ask in front of Mom and Dad.
(More visiting programs, such as Black and Gold Days and PreVU, will begin in the spring and summer.  Keep your eye on our Visit page for updates on these events.)
What other things can I do while I'm on campus to get a better "feel" for Vanderbilt?
There are a number of options for prospective students to explore campus and get their questions answered outside the official visiting programs offered by our office.  If you would like to visit a class but cannot participate in 'Dore for a Day, look through our lists of pre-approved classes and contact the professor to find out which session would be the best to observe.  If you would like to meet with a specific faculty member in your academic area of interest, take a look at the online fact sheet on our majors and disciplines page to find the right contact, and contact that person directly to ask if you can set up an appointment while you are in town.
While our office doesn't offer overnight stays for prospective students, you are always welcome to arrange a stay of your own with a current student you know from high school or have met through other avenues.  If you are unable to make one of our campus tours, or if registration for the date you would like to attend is already full, you can make use of our self-guided tour materials and see the campus sites at your own pace.
Finally, check out Nashville!  A quick internet search will illuminate some of the 20,000 yearly live music performances that happen in our city every year, events at nearby Centennial Park, shows at the Tennessee Performing Arts Center, exhibits at the Frist Center for the Visual Arts, or games featuring the Tennessee Titans or Nashville Predators that will be happening while you are in town.  Keep a close eye on Vanderbilt's own event calendar and athletic schedules to catch exciting things happening on campus as well.
What is "demonstrated interest," and does Vanderbilt use it in the admissions process?
Generally speaking, demonstrated interest encompasses any action a student takes to show s/he is interested in attending a certain school.  For example, filling out an information card at a college fair, registering for a campus tour, or sending your admissions counselor an email could be considered versions of demonstrated interest.  Many schools will take this interest into account in the admission process; in other words, a student who visited campus may get a leg up in the selection process, all other parts of the application being equal.
Vanderbilt, however, does not take demonstrated interest into account in the initial application process. We encourage students to visit campus, speak to current students, and ask questions of their admissions counselors, purely for the benefit of being well-informed throughout this crucial decision-making process – not to gauge which students are "really interested" in Vanderbilt and which are not.  Because of this policy, students who are unable to visit campus for any reason will not be disadvantaged when it comes time to apply.
(Please note: students who are placed on the wait list in April are encouraged to let us know at that point whether or not they would still like to enroll.)
If you have further questions about your campus visit options or the programs offered, please contact our office at 800-288-0432, or email your admissions counselor.  In the meantime, keep up those studies, and I hope to see you in Nashville soon!