Class of 2025 – Early and Regular Decision Admissions Statistics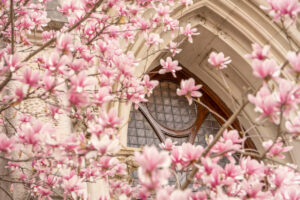 This week we announced admissions decisions for the Regular Decision applicants to the Class of 2025. We're excited to welcome the new students to the Vanderbilt community!
This year has been unlike any other. The impacts of the pandemic have been felt in our schools, our communities, and our families. While the pandemic has also caused changes in the way our office operates, the values that guide us remain true, as our leadership explained in a blog post from one year ago when the impacts of the pandemic were just beginning.
Throughout this year, Vanderbilt has remained steadfast in the practice of context-based, holistic admissions. Holistic review means we consider an applicant's academic achievement, extracurricular engagement, personal essays, and letters of recommendation, all with an eye to the context of the individual student. This year, in order to support prospective students and their families during the pandemic, we did not require standardized test scores as a part of the application. For students who applied without standardized test scores, our evaluations of their academic achievement relied more heavily on the rest of their academic record including the transcript, relative position in class, rigor of coursework, and grade trend over time.
Vanderbilt strives to build a diverse class of students who represent a wide variety of backgrounds, talents, and academic interests, and this commitment remains true even during an especially challenging year. This year's admitted students were selected from an incredibly talented applicant pool, which will result in one of our strongest academic profiles ever. We're on track to enroll one of the most diverse classes in our history with respect to socio-economic, ethnic, and geographic diversity, as well as first-generation college-goers.
Vanderbilt Class of 2025, Early and Regular Decision Admissions Statistics
(as of March 29, 2021)
Applications:  47,174
Admitted:  3,162
Admit Rate:  6.7%
Percent of students applying with test scores: 56.3%
Percent of students admitted with test scores: 61.1%
Number of U.S. states represented among admitted students: 50
Number of countries represented among admitted students: 74 (including the U.S.)
Note: final Class of 2025 enrollment data will be available in fall 2021.
The strength of our applicant pool makes our work as an admissions staff both rewarding and challenging. We are honored to receive applications from such remarkable students. At the same time, such a remarkable pool of applicants means our process must be highly selective. Vanderbilt offers a collaborative learning environment with an excellent student-to-faculty ratio, which means that our first-year class is limited by the capacity of our academic colleges and schools, and there are many talented applicants we are not able to admit. It is precisely because these decisions are so difficult to render that we put such careful consideration into our process.
We're grateful to everyone who applied, as well as to the parents, teachers, counselors, and others who supported applicants through their advocacy.
To those students who have been offered a spot on our waitlist, know that Vanderbilt has admitted students from our waitlist for 30 consecutive admissions cycles, and we plan to do so again this year. In recent years, approximately 10% of our fall entering class was initially waitlisted. Be sure to follow the instructions on your portal to remain active on our waitlist.
To our newest Vanderbilt students, we say congratulations! We understand that choosing your college destination for the next four years is an exciting time, but may be more challenging in this unprecedented period because of travel restrictions and social distancing. Your admit packet contains important information to help you learn more about Vanderbilt. In addition, we hope you'll join us for one of our online admitted student events, where you can get to know our community even more.
We've already seen many of you join the Vanderbilt Admitted Student Community, and we invite the rest of you to join as well in order to connect with other new students. You can learn more about this online platform and how to join through your MyAppVU portal.
From everyone at the Office of Undergraduate Admissions – from Dean of Admissions Douglas Christiansen and Director of Undergraduate Admissions John Gaines to all the admissions counselors, members of the Admissions Processing Center, student workers, tour guides, and student bloggers – Congratulations and Go 'Dores!
Welcome to Vanderbilt!