The Vanderbilt Waitlist: True and False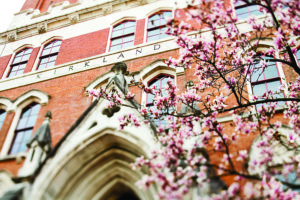 So you have been placed on the waitlist — congrats! While this may not have been the news you were hoping for, it's an accomplishment that should be celebrated! If you were placed on the waitlist, this means that we think you'd be a good addition to the Vanderbilt Class of 2023. However, with only 1,600 beds available on The Martha Rivers Ingram Commons, and a 6.3% regular decision admit rate, admission is very competitive and we can't admit everyone who'd be a good fit.
At Vanderbilt, the waitlist isn't a gentler way of saying "no" to you: we will definitely use our waitlist to complete our class just as we have done for each of the past twenty-eight years. We know that there are a lot of questions and myths about the waitlist process, and we're here today with a VU True/False quiz to help demystify it.
I don't have to accept my spot on the waitlist, it is automatic.
FALSE. You must accept your spot through your MyAppVU portal. It is quite easy; simply log into your account and click "Claim My Spot." Over the next few weeks and months, we will communicate important waitlist information to you via email. When you receive email updates from our office, be sure to respond promptly as indicated.
Vanderbilt never turns to the waitlist.
FALSE. If you've been paying attention to this post, you already know that VU has used the waitlist for 28 straight years. But did you know that historically 7-10% of the first-year class has been made up of students who were initially waitlisted earlier in the process?
I can submit additional information about my application.
TRUE. You are more than welcome to submit new information to your admissions counselor. We do not require this but we understand that some things might have changed since you submitted your application to Vanderbilt. As long as this information is new, we will accept it. This includes updated second semester grades, leadership positions, academic honors, and letters of recommendation.
I will only be considered for the undergraduate school for which I'm on the waitlist.
TRUE. You will be considered for the school to which you were offered a spot on the waitlist since there are separate waitlists for each of the four schools. As we determine space is available in an undergraduate school, we will evaluate all of the students on the school-specific waitlist. Additionally, we do not rank our waitlists. We evaluate applicants on the waitlist using the same holistic process we used in the initial review, taking into account high school achievement, standardized test scores, extracurricular involvement, as well as essays and recommendations.
I must visit campus in order to increase my chances of being pulled off the waitlist.
FALSE. You do not have to visit campus; however, you are more than welcome! The best visit option for students on the waitlist is our Daily Information Session and Campus Tour, which can help you answer any remaining questions and help determine your fit at Vanderbilt if you are offered a place in the Class of 2023. However, if you cannot visit campus, this is fine. If you want to inform us of your continued interest for Vanderbilt, feel free to email your admissions officer.
Vanderbilt will reach out to me if I am admitted.
TRUE. If you are offered admission to the Class of 2023, you will receive an email from the Director of Admissions. If you are still interested in Vanderbilt — and we hope you are — you will have a limited amount of time to accept your spot. Your admit status and your financial aid package, if applicable, will be updated in your MyAppVU portal as well.
Showing interest in attending Vanderbilt doesn't matter.
FALSE. It's helpful to the Admissions Committee to understand if you remain interested in attending Vanderbilt. The most important way to show interest is by responding to emails which will be sent from our office that will ask you if you remain interested in attending; respond to each email to let us know you're still interested.
I won't receive financial aid if I'm admitted off the waitlist.
FALSE. All students who are admitted from the waitlist will receive the same need-based financial aid award as if they had been admitted in an earlier decision round. If you've completed all required financial aid documents, you're all set.
I can still apply for merit aid if I'm admitted off the waitlist.
FALSE. All merit aid recipients have been notified of their awards.
We hope that this post has answered any questions that you have about the waitlist process here at Vanderbilt. However, if you have any other questions, you are more than welcome to contact your admissions officer!