Diverse 'Dores Day 2018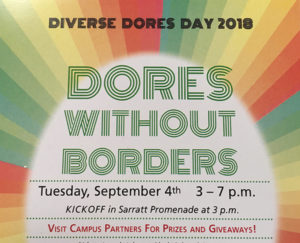 Each fall since 2014, the Vanderbilt community has celebrated Diverse 'Dores Day, an opportunity for students, faculty, and staff to visit campus identity spaces and learn more about their services, programming, and staff members. Last week, I stopped by the 2018 celebration to learn more about this annual event, which is sponsored by the Office of the Dean of Students. The theme this year was "'Dores Without Borders."
Beginning at Sarratt Student Center, 'Diverse Dores Day is a cross between a community open house and a scavenger hunt — participants started at Sarratt Student Center where they picked up a map of campus showing 9 campus offices they could visit. After visiting at least 5 of these offices (learning about their roles in campus life and picking up free food and prizes along the way), participants could return to Sarratt to screen print their very own Diverse 'Dores Day t-shirt.
Participating campus offices this year included:
Diverse 'Dores Day was a great reminder of the ways the Vanderbilt community works toward inclusion and diversity. Seeing students, faculty, and staff exploring these campus resources, I was reminded of our recent #3 best quality of life ranking in Princeton Review (2019). Our campus community provides support for all students regardless of their background or identity, not just so they can succeed academically, but also so that they can find balance and thrive in all aspects of their lives.
If you're interested in how you might find your place in the Vanderbilt community, you can learn more on our page about student life at Vanderbilt or you can join our mailing list!