Snapchat Takeovers Return!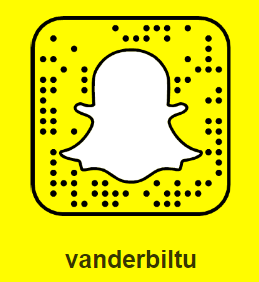 Last year, we started turning over the Vanderbilt Snapchat account to current students on select Tuesdays. These student takeovers return this fall with a bunch of new Commodores taking over to give you a window into their Vanderbilt experiences. Academics, student life, research, clubs and student organizations — these takeovers are a great way to see more about what it's like to be a VU student. You can also snap your own questions in to the students during the takeover.
Here's a look at some of the students who will be taking over the account this fall. Follow VanderbiltU on Snapchat to see more from each of them!
Makenzie Beaman
Class of 2018
College of Arts and Science
Molecular and Cellular Biology
Overland Park, KS
Gregory Schwartz
Class of 2019
School of Engineering
Computer Science
Closter, NJ
Crys Kim
Class of 2019
Blair School of Music
Flute Performance
Arlington, TX
Carly Myers
Class of 2018
Peabody College
Elementary Education & Spanish
Chester, NJ
Lucas Wesoloski
Class of 2018
College of Arts and Science
Neuroscience
Gurnee, IL
Raven Delk
Class of 2018
College of Arts and Science
Communications of Science and Technology
Raleigh, NC
Michaela Royer
Class of 2018
College of Arts and Science
Communication Studies
Tulsa, OK