3 Ways to Learn More About the Student/Faculty Relationship at Vanderbilt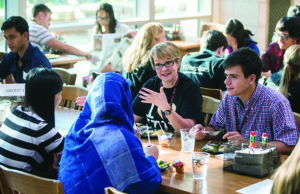 "What kind of interaction do Vanderbilt students have with faculty?" That's a question that we in the Office of Undergraduate Admissions hear frequently from prospective students and their families. Admissions officers can go on and on about our impressive statistics and rankings – like our 8:1 student-to-faculty ratio and our #10 Best Undergraduate Teaching ranking – and we can even relate the stories of some of the students we know. To get the best feel for the rewarding academic bonds that develop between students and faculty at Vanderbilt, however, you need to hear directly from our students.
We have several great ways for you to do just that.
Read the Inside 'Dores Student Blog – Student bloggers write about their experience as Vanderbilt students, and that definitely includes their academic experiences and relationships with faculty. You could start with this post from blogger Farah Arif on her unique 3 person intermediate Hindi and Urdu class or this recent post from blogger Aditi Thakur on her honors seminar Construction of Reality with Professor Randolph Blake.
Contact a student yourself – Our Contact a Student page is a great resource to get the answers to your individual questions about Vanderbilt directly from current students. You can find students from each of Vanderbilt's undergraduate schools representing many of the majors and minors available on campus. Just find a student in an academic area you're interested in, and send in a question. You can also see what individual students have to say about their VU experience through the bio section of each student's page. For instance, here's what current junior Kenny Wang says about his Commons experience, "I found my place in the Vanderbilt community probably as soon as on the first day I moved in. The first-year Commons is what really built my Vanderbilt experience. I had the most amazing RA, floormates and Faculty Head of House my first year living in North House. As an International student, I don't have the chance to go back home often, but they built me a new family I can turn to whenever I need them!"
Check out the Vanderbilt YouTube profile – Vanderbilt's YouTube videos are a great way to learn about just almost any aspect of the university, but they are particularly useful for hearing directly from students and faculty about their academic engagement. The video below gives insight into the ways small classes, immersive research, and our living and learning community lead to rich and rewarding faculty and student relationships.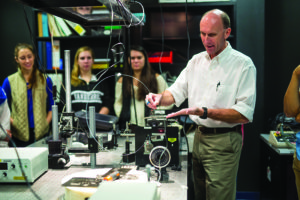 Of course, these aren't the only ways to learn more about the student/faculty relationship at Vanderbilt. If this leaves you wanting to learn more, you can plan a visit to campus for a tour with a current student, a class visit, or 'Dore for a Day, our program that lets prospective students shadow a current VU student through part of a day.