Black & Gold Days Registration Now Open
With fall in full swing, Vanderbilt's campus is a beautiful mix of yellow, orange, red, and GOLD as the leaves change. Fall means that VU admissions counselors are wrapping up their travel season, current students are hard at work on this semester's studies, and high school seniors are in the midst of college applications.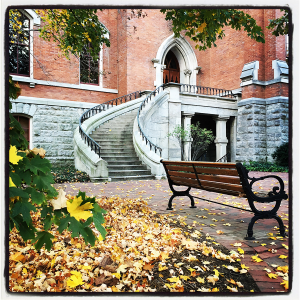 While much of our work as an admissions office is helping those seniors — helping them learn how to apply, sharing information about financial aid and scholarships, talking with them about academic programs at Vanderbilt, and much more — we know that the college search process doesn't start in the senior year. That's why we offer programs like Black & Gold Days, which opened for registration this week. Our 2017 Black & Gold Days will be held in January, February, and March (see full dates, times, and registration info below).
Designed especially for high school freshmen, sophomores, juniors, and their families, Black & Gold Days are comprehensive half-day campus visit programs that offer a great way to start the college search process. With sessions on preparing for college, selective college admissions, and the financial aid process, visitors get an excellent introduction to the college search process. Each Black & Gold Day also includes a panel discussion with faculty and current students as well as a student-led campus walking tour, so visitors get to interact with current students and get a first look at Vanderbilt's campus.
Registration for Black & Gold Days is on a first come, first served basis, so choose the date that works best for you and register now! We look forward to seeing you on campus.
Monday, January 16, 2017 (MLK Jr. Day)
Morning program
Check-in at 7:30, Program from 8:00 a.m. – 12:00 p.m.
Register
Event Schedule
Afternoon program
Check-in at 12:30 p.m., Program 1:00 – 5:00 p.m.
Register
Event Schedule
Monday, February 6, 2017
Check-in at 7:30, Program from 8:00 a.m. – 12:00 p.m.
Register
Event Schedule
Monday, February 20, 2017 (Presidents Day)
Morning program
Check-in at 7:30, Program from 8:00 a.m. – 12:00 p.m.
Register
Event Schedule
Afternoon program
Check-in at 12:30 p.m., Program 1:00 – 5:00 p.m.
Register
Event Schedule
Monday, March 27, 2017
Morning program
Check-in at 7:30, Program from 8:00 a.m. – 12:00 p.m.
Register
Event Schedule
Afternoon program
Check-in at 12:30 p.m., Program 1:00 – 5:00 p.m.
Register
Event Schedule