Talking Transfers
The idea of diversity is kind of like the shape of an amoeba – it is always changing. Assuredly we seek out applicants from all ethnicities and races; all geographic locations and socioeconomic backgrounds; all beliefs and perspectives. But, what about those who are looking for a new college home? Transfer students add a breadth and depth of perspective that completes many collegiate communities, and it certainly completes ours. The diversity of life experience that transfer students often carry can give our community a perspective beyond the confines of campus.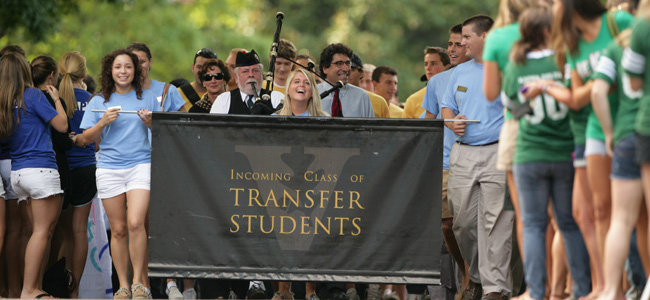 Transfer applicants have experience with college admissions, whether it is through signing up for courses at a local community college or having applied to a university through an application process. But like the college admissions process in general, each university's transfer process has specific deadlines, application requirements, and even notification timetables that are different from other schools, even those that may be in the same selectivity band. Vanderbilt transfer applicants are required to submit the following:
All required parts of either the Common Application Transfer Application or the Universal College Application Transfer Application.
$50 application fee, or fee waiver for qualified students
Official high school transcript
Official college transcript(s) (from each institution attended)
Transfer College Report (from your current institution)
Two academic teacher letters of recommendation (we prefer that at least one letter is from a college professor/instructor)
Official SAT or ACT scores (SAT code: 1871 / ACT code: 4036)
Our transfer application priority deadline is March 15, 2015. Note that I italicized the word priority. At Vanderbilt, we begin releasing transfer admissions decisions in mid-April and will continue to offer admission to transfer applicants on a rolling basis until the class is full. Therefore, while we will still accept an application after the priority deadline, it is in your best interest to submit your application and required materials by that deadline. I reiterate, check with each university to which you are applying – some can be quite strict about deadlines!
Advice to Transfer Applicants
When I reflect on my own undergraduate experience, some of my closest friends were transfer students, and I remember how much I learned from them in the classroom and over lunch. Transfer students accomplish amazing feats in life. It certainly is important to remember that academic excellence is important in any college admissions process, and that cannot be stressed enough in our transfer process as well.
Life experience matters at Vanderbilt. Not convinced? I can give you 510 different rebuttals – 510+ student organizations and groups. Educators typically do not call extracurricular activities life experience for a 17-18 year high school student, though they certainly could. But especially for our transfer applicants, what you do outside of the classroom is important, like volunteering, working part-time (or even full-time), and/or serving in our military. (Vanderbilt recognizes the contributions of military veterans by participating in the Yellow Ribbon Program for eligible military veterans.) Be sure to account for your time and leadership experience to illustrate what perspective and gifts you would bring to complete our community.
I have written much about the college essay in the past year and I encourage you to read through those quick posts for some general tips. I realize that even two years after high school can substantially alter how you view the world and how you view yourself. With this in mind, I offer you some additional thoughts on writing the transfer personal statement.
1) Be able to convincingly answer the question "why Vanderbilt?" While we do not ask this specific question on our application, you have now completed some college and you probably have a good idea what you want your college experience to be like. Why does Vanderbilt fit well with your educational aspirations and needs? You need to be able to answer this yourself, before being able to make a strong case for admission.
2) Better understand (and communicate) what you would like to major in upon arriving on campus. Some universities might ask you to apply into a specific major. For Vanderbilt, if you are interested in the Blair School of Music or the Peabody College of Education and Human Development, you must apply into a specific major. However, if you are interested in our College of Arts and Science or School of Engineering, you technically still have some time to decide on a major. But, do not be fooled, you have fewer semesters on campus than our first-year students, so you need to able to tread a pathway towards a major relatively quickly.
3) Advocate for yourself. Unlike the first-year admission process where your high school teachers may have gotten to know you more personally, college instructors have many more students to instruct and their letters of recommendations may not be as effusive in praise or detail. Thus, your personal statement must communicate you, loud and clearly. Give the admissions committee a glimpse of who you are and through this glimpse illustrate how your life experiences would add a deeper dimension to our community.
4) Refrain from speaking ill of your current institution. Some people find college fit on their first try and that is great. But, others, once they get a feel for a place, make the decision to move on. That is perfectly ok too! I believe that every experience forms who we are as individuals and to speak ill of past experiences, in a formal process like our application, is not helpful. You are growing and learning from all your experiences, so if you are leaving an institution because the fit simply is not there, your submitted application makes this statement for you without you having to make it yourself. (It even frees up some additional words in your personal statement – hooray for a higher word count!)
The bottom line is that we understand that your educational trajectory may be different. If so, just be sure that you communicate this throughout your application. For example, if you have taken some time off, be sure to say this in your application. Or if you have attended multiple institutions, be sure that all transcripts from all your former college institutions are sent to our office. If you have been reading my posts (or know me personally), you know that I can be quite sentimental. But, I really mean it when I say don't be afraid to be yourself. It may be your story, perspective, and experiences that convince us that you should be a part of the Vanderbilt community.