Congratulations, #vu2014
Last week Vanderbilt held a huge celebration as some of our favorite students became some of our favorite alumni. I've had the opportunity to get to know several members of the Class of 2014, and as proud as I am of their accomplishments, I can only imagine the feelings of their friends and families. Commencement, with its unique Vanderbilt traditions and festive atmosphere, gave us a great opportunity to celebrate the accomplishments of these truly remarkable students.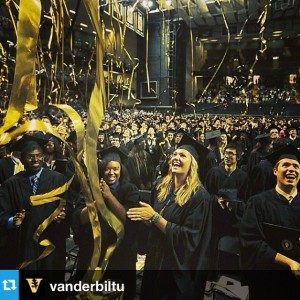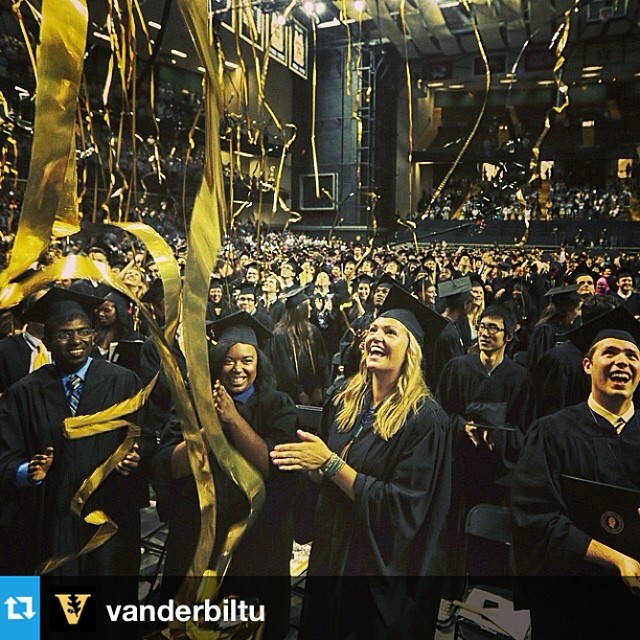 Commencement at Vanderbilt isn't just a ceremony; it's a three day celebration. Vanderbilt students love the unique sense of balance they feel on campus, and that certainly carries over to Commencement.  While we have our fair share of pomp and circumstance, we also have THE PARTY, an event so important it demands all caps. Held on Wednesday night, THE PARTY is a Commencement kickoff celebration on Commons Center Lawn featuring live music, dancing, and all-around merriment. This year's entertainment included the party band Soul Incision, a soul/funk/rock/disco group comprised of surgeons, administrators, nurses, and other members of the Vanderbilt University Medical Center.
A day after THE PARTY comes Senior Class Day, which features an address to seniors by an outstanding individual – think Toni Morrison (2013) or Tom Brokaw (2012) – who is also awarded the prestigious Nichols-Chancellor's Medal. This year's speaker was Regina M. Benjamin, the 18th Surgeon General of the United States.  Benjamin's speech, which you can watch online, focused on the value of service, a theme I know resonates with many of the senior class.  "Today I want to remind you and your families of the service side of your Vanderbilt values," she said, "the humanitarian values that have prepared you to follow Cornelius Vanderbilt's vision, for you to strengthen the ties that should exist between all sections of our common country." The founder's vision is in good hands with the Class of 2014.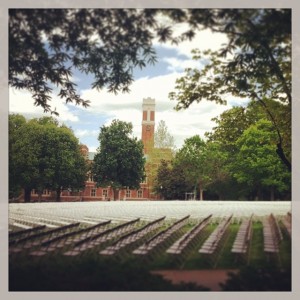 And then of course there is the big day itself, when the degrees are conferred. This year, approximately 1,700 undergraduates and 2,900 graduate students (including Admissions Counselors Harper Haynes and Dustin Lynn!) received degrees. Vanderbilt tradition calls for the Commencement ceremony to take place on Alumni Lawn, which, since that's the spot where students become alumni, is the origin of the lawn's name. This year, however, the weather did not cooperate. Even though it was beautiful before and after the ceremony, rain on Friday morning forced the festivities inside Memorial Gym. Rain during commencement is a rare occurrence Chancellor Zeppos noted, joking that "only a small number of commencement exercises have had to run from the rain – counting today four have occurred since I became chancellor in 2008." The weather didn't seem to dampen anyone's spirits, though, as you can see in the VUCast coverage of the event. Following the ceremony, graduates and their family and friends were treated to one of Vanderbilt's most loved traditions, strawberries and champagne on Library Lawn.
It's an exciting time for the Class of 2014.  They have a long list of accomplishments to celebrate from their time as students at Vanderbilt, and they're poised to do even more incredible things in the future.  Regardless of where their journeys take them next, they'll always be 'Dores. Congratulations, Class of 2014!