Signing Day 2014
If you have been following this blog on a regular basis, or even once in a blue moon, chances are you have heard a thing or two about the diverse, tightly-knit, and welcoming Vanderbilt Commodore community.  Over the last few weeks, that community has grown quite a bit.  In fact, just last weekend, the Office of Undergraduate Admissions welcomed several hundred new members to the Class of 2018 through the Early Decision II admissions cycle. As Jay revealed in his latest post, this group of students will bring an enormous wealth of achievement and leadership to campus in the fall.
Our EDII admits, however, were not the only people who have hopped onto the Commodore bandwagon this year.  Three weeks ago, after a national search, Chancellor Nick Zeppos and Director of Athletics David Williams introduced Derek Mason as the new Vanderbilt head football coach.  Coach Mason has arrived in Nashville by way of California and his former position as associate head coach and Willie Shaw Director of Defense for the Stanford University Cardinals.
If you are as excited as we are to get to know the new leader of the football 'Dores, check out vucommodore.com's extensive coverage on the official announcement and the days that followed:
"Stanford Defensive Coodinator Derek Mason named new Vanderbilt Head Coach"
Vanderbilt Football Head Coach Press Conference with Chancellor Zeppos and Director Williams
First Interview with Derek Mason
"What They're Saying About Derek Mason"
"New head football coach Derek Mason sets path to greatness"
VUCast Extra: Behind the Scenes with Derek Mason
Fans welcome Derek Mason at WBB game
"Mason exudes confidence, ready to bring 'intellectual brutality' to Vanderbilt"
Derek Mason's first 48 hours in photos
One thing is for sure, Coach Mason has been anything but idle in the three weeks since arriving on campus.  He has already announced 7 new additions to his coaching staff, including former UCLA head coach Karl Dorrell and Stanford assistant David Kotulski.  Perhaps most importantly, he had only 19 days to prepare for College Football Signing Day 2014.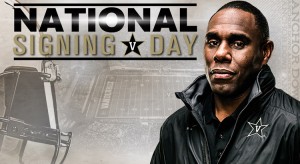 Despite the time crunch, Vanderbilt pulled in a spectacular class of new football Commodores last Wednesday.  The day started with a commitment from Atlanta running back Dallas Rivers at 7:32 AM, and the signing day war room did not stop running until the 22nd commitment announced at 12:15 PM.  The new class includes 11 defensive players, 10 offensive players, and one snap specialist.  19 of the 22 received at least a three-star recruiting evaluation, with 4 earning a four-star rating.
Coach Mason's first successful Vanderbilt signing day ended with a celebration event in our brand new multipurpose facility.  Approximately 1,000 Commodore faithful gathered on the practice field to meet the new coaching staff and discuss the newest members of the Vanderbilt football team.
Despite all of this excitement early in the year, the Vanderbilt community is not quite done growing yet.  By April 1, we will invite a few thousand more students to join their Early Decision comrades and these 22 scholar athletes on The Martha Rivers Ingram Commons as part of the Class of 2018.  Stay tuned, and anchor down!