Still Time to Request an Alumni Interview through CoRPs
Blogger's note:  Dustin Lynn, senior admissions counselor and coordinator of the CoRPs program, has contributed this guest post.
I still remember when I applied to Vanderbilt as a senior in high school. I explored the Vanderbilt website, pored over the brochures I received in the mail, and even requested a virtual tour DVD. For all of my research into the university and conversations with teachers and friends, I could still only speculate about life at Vanderbilt. Wouldn't it be great if I could talk to someone who really knew what it was like?
Yes, Vanderbilt and our virtual tour have come a long way since I applied in 2006. And so have I: today, I coordinate the CoRPs alumni interview program, which gives you the opportunity to talk with someone who knows the Vanderbilt experience first-hand.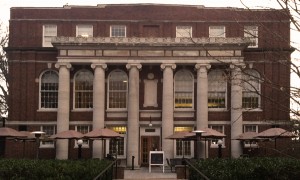 CoRPs alumni interviews provide you, the applicant, with a chance to meet one-on-one with a Vanderbilt alumnus. Our aim with this program is to give you the opportunity to interact with someone who has lived the Vanderbilt experience, so that you can gain a clearer picture of life at Vanderbilt. Interviews take place in a public space and usually last about an hour. During this time, you have the opportunity to learn about the alum's time at Vanderbilt and ask questions about the VU experience. In addition, your interviewer submits a report to the Office of Undergraduate Admissions that we use to gain additional perspective about you as an applicant beyond what you've already submitted with your application.
Any first-year applicant is welcome to participate in the program, and registration is still open for current Regular Decision applicants. After you submit your application, we email you an invitation with instructions regarding how to request an interview from a volunteer in your area. If you have applied through Regular Decision this year and have not registered for an interview, you still have time — registration closes Friday, January 31. Just use the information in the interview invitation email you received. If you need assistance or are have any trouble with the registration process, you can contact us at corps@vanderbilt.edu.
Please keep in mind that interviews at Vanderbilt are completely optional. Not participating in an interview will in no way detract from the likelihood that a student will be admitted. It's also important to note that we do not have registered alumni interviewers in all areas. (Our alumni volunteers make this program possible and we're always glad to welcome more!)
For more information on the CoRPs alumni interview program and how Vanderbilt Admissions uses interview reports, check out the CoRPs alumni interview website. If you still have any unanswered questions about Vanderbilt, please feel free to reach out to your admissions counselor.