How To: Letters of Recommendation
Last week I gave several tips on how to write your personal essay. Next up in our "How To" series on the application process: letters of recommendation.
As you go about completing your application for admission, your intent should be to accurately portray yourself as a person, as a member of your community, and most importantly, as a student. Your high school transcript and standardized test scores will provide us with a wealth of information on your academic achievement, and these two items will be a large focus of our evaluation of your file.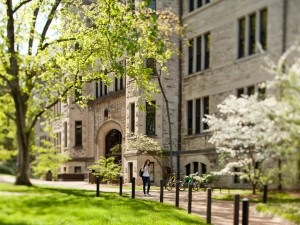 That being said, we know that quantitative information like grades and test scores only tell part of the story. We are searching for more than just highly accomplished students; we also want students who are motivated and engaged, who enjoy the learning process, and who actively seek opportunities to learn more. It goes without saying that your transcript and test scores are imperfect measures of these more subjective qualities.
This is where the letters of recommendation come in. We require each applicant to submit three letters: two from teachers who taught you in a core academic area (preferably either junior or senior year), and one from your assigned guidance counselor. The tips below will help guide you in the process of selecting your academic teachers and soliciting their recommendations:
First, and most importantly, choose your teachers wisely. Of course you want to get letters from teachers who like you, but beyond that, you want to select teachers who know you well and can accurately characterize you as a student. This does not always have to be the teacher who gave you the highest grade, or the popular teacher who receives the most recommendation requests, or even the teacher who had you in the class that corresponds to your intended major. Teachers who have seen you grow and improve over time are particularly good choices; some of the best letters we receive are from teachers who saw their students struggle with and then overcome academic obstacles.
Choose your teachers early. As you well know, your teachers are incredibly busy and receive many requests like yours throughout the year.  It is important that you give them as much time as possible to write your letters – both for their own sanity and for the success of your application. Give your teachers time to write a thoughtful recommendation that will provide us with the most helpful information as we review your application. You should also keep in mind that our regular decision deadline, along with those of most other schools, falls right after the holiday break, and many of your teachers and counselors may be difficult to reach during that time.
Make sure your teachers are well informed. Although your teachers will primarily be characterizing you as a student in the classroom, it might be helpful to provide them with some additional context as well. Your teachers may ask you for a resume, and you should consider sending them a summary of your achievements and activities, whether or not they request a resume. You will also want to keep these teachers up to date on what these letters are being used for; if it is a recommendation for the Common Application, they should avoid mentioning any specific college or university by name, as their letters will be sent to each institution on your list.
Submit additional letters of recommendation with caution. At Vanderbilt, we do allow students to submit recommendation letters in addition to those that are required, but we suggest that you use discretion when doing so. If you have an elective teacher, athletic coach, religious leader, or other person in your life who you think could provide a different perspective on you as a student or community member, you are more than welcome to submit an additional recommendation letter. Adding additional letters to your file simply for the sake of adding letters, however, will not increase your chances of admission.
Just like all other pieces of the application, we know that our students will fret over their recommendation letters, no matter how much we tell them not to. Rest assured, however, that your teachers and counselors are your biggest cheerleaders in this process, and they are all honored to have the opportunity to advocate for you.  All you have to do is let them.