Why VU? The Final Stretch
Yesterday, I decided to take my dog for a walk around Centennial Park, so I pulled out my trusty phone to check the weather – then proceeded to drop my phone in shock.  80 degrees?  Already?!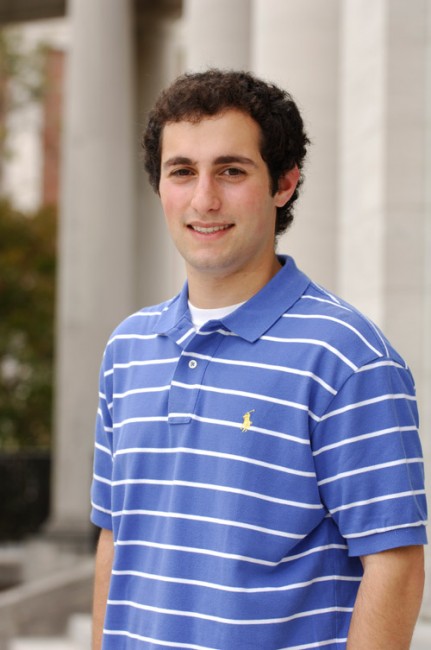 Spring has flown by here in Nashville, and summer is quickly approaching.  For many of you, that means you are gearing up to ace your end of year finals.  For current student Ryan Khodadadi, it means gearing up to ace his final year at Vanderbilt.  A rising senior from Auburn, Alabama, Ryan is set to graduate next May with a degree in Biomedical Engineering.  After three years on campus, he is just as enthusiastic about Vanderbilt as the day he accepted his offer of admission, and has agreed to give us a little bit of insight into what he's been up to in the meantime.
What were your deciding factors in choosing to enroll at Vanderbilt?
When deciding which school to attend, I was looking for a school that not only could provide a quality biomedical engineering education but at the same time an overall quality undergraduate experience — especially during the freshman year when students are transitioning from living at home and adjusting to life on a college campus. I was also looking for diversity in academics, not an institution that was solely focused on engineering. This was especially important to me because when I enrolled at Vanderbilt, I wasn't certain I was going to pursue a biomedical engineering degree and I wanted to have choices available to me in the event that I did not wish to continue on that path.
What surprised you about Vanderbilt?
I have lived in a college town all of my life and I have never seen the wide range of programs available to students like there are here at Vanderbilt. It seems that every week there is an interesting program that I attend. Vanderbilt programming boards and organizations do a great job of catering to the wide range of interests represented among the students.
Tell us about one or two significant academic experiences you have had here at Vanderbilt.
Since my sophomore year, I have been working in a research laboratory in the Department of Biological Sciences (BSCI) learning about signal transduction pathways. It's been a great learning experience and has taught me a lot about perseverance and has exposed me to a professional laboratory setting.
When tour guides boast about the class size and potential to interact with professors here at Vanderbilt, they aren't lying, especially in the School of Engineering. Most of my major specific professors know me by name and I have a great relationship with all of them. It's especially great for research advice and for input regarding future plans.
(Ryan's ASB group having some fun on a service trip to South Dakota)
Tell us about some opportunities you have taken advantage of outside of the classroom while at Vanderbilt. 
I have participated in Vanderbilt Alternative Spring Break (ASB) since my freshman year. Students are assigned in groups of ten or twelve to sites across the nation and abroad where they conduct a weeklong service project. The program here at Vanderbilt was the first of its kind and it is a great way to get involved in service on campus. Many people who participate in ASB find ways to extend the type of service they were conducting on site back to the Nashville community as well.
I have also been involved in student government on campus. I have served on the Vanderbilt University School of Engineering Council (E-Council) for the past year and was recently elected to serve during my senior year. I was also part of the Vanderbilt Student Government (VSG) Strategic Planning Committee (SPC), which was instrumental in reforming campus-wide elections as well as student government committee structure in the past year.
If you could give one piece of advice to high school students making their college decision, what would it be?
I would not just look at statistics and numbers when deciding where to attend college. It's the next step in your life towards a great career and the choice is very important. I would stress embracing the process: this includes visiting all of the colleges you are interested in and seeing what they have to offer. The next four years of your life are more than what is found in US News.
I would also seriously consider the freshman experience at the schools you are considering. Vanderbilt does a great job providing students with one of the best freshman experiences found at any school and this is a source of pride. I would encourage students to weigh that in their decision as well.