Guest Blog: Sending Off the Next Group of World Changers
Two weeks ago, the OUA held its annual Tour Guide Senior Send Off, where we recognized the fantastic work of our tour guides during their time at Vanderbilt, while also celebrating their success and future endeavors.  I felt like a parent for the first time in my life; as the Tour Guide Director, I have been fortunate to know these students for a few years now, and I feel truly lucky for that privilege.  I am so thankful for the time and effort these young men and women exhibit in showcasing our beautiful campus and illuminating the Vanderbilt story for all types of campus visitors.  Over the course of their tenure, this group of seniors has changed the culture of tour guides, making it one of the most sought-after honors on campus.  Case in point: We received over 316 applications for 50 new positions during our most recent round of recruitment.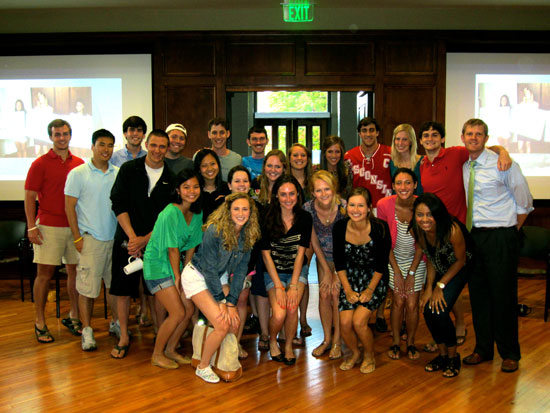 Our send off event was another great reminder of why Vanderbilt is my favorite place in the world: the quality of the students.  I am surrounded by a diverse, highly intelligent, balanced group of young adults with futures full of hope and promise who are going to change the world that we live in.  Among these 36 students, we have future investment bankers, consultants, educators, nurses, musicians, doctors, dentists, and even one guide who will be working for Saturday Night Live!
As you are making your decision regarding which universities to visit this summer, or if you are exploring Vanderbilt as a potential home for the next four years, I encourage you to use our seniors as a resource and ask how Vanderbilt helped them build a solid foundation for success.
By: John Nesbitt, Tour Guide Director and Assistant Director of Admissions
Photo: John Russell/Vanderbilt