I Get By With a Little Help…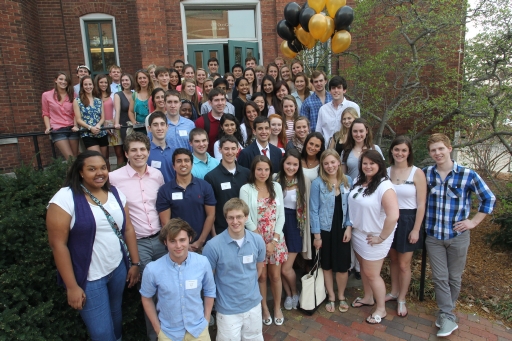 Last week we gave you a little peek into the processing side of undergraduate admissions and the collective effort it takes to get your applications from Point A to Point B in our office.  Believe me when I tell you that it truly takes a village to recruit, select, and yield a 1,600-person class to Vanderbilt every year.  We rely on our admissions officers, university leadership, publications team, processing center, operations staff, high school counselors, prospective students, and families to keep the wheels turning on a day-to-day basis.  Those wheels would come completely off the wagon, however, without the help of the current Vanderbilt students who fill several crucial roles within our office during their four years at Vanderbilt.
Susie Archer has already given us a brief outline of what our student workers are in charge of within the Admissions Processing Center, but you can find Vanderbilt students hard at work throughout all of OUA.  In fact, many of you may have already encountered one of our student workers if you have received a response from our admissions@vanderbilt.edu email account, called our front office, or been greeted upon arriving for a  visiting student program.  A lucky few have been handed the keys to the "Swagger Wagon," our incredibly trendy OUA minivan that is used to transport deliveries or large amounts of mail.
The life of a student worker is never boring, as many counselors will delegate whatever tasks appear on our desk on that particular day – and for this, we are beyond grateful.  Last fall I handed a student a map of Tennessee and a box of markers, and he soon returned with a color-coded map that helped me to figure out which eastern cities fell within my territory.  I am proud to say I have a much better understanding of Tennessee geography because of that beautiful map!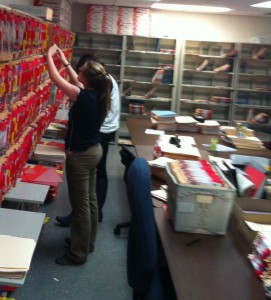 If you have attended one of our daily information sessions or visiting programs, you have probably also taken a campus tour with one of our phenomenal student tour guides.  These young men and women were not randomly pulled from the campus sidewalks that morning and told to show you around, but rather have gone through an extensive application, interview, and training process before appearing from behind the magic swinging doors in our presentation room.
What do we look for in a tour guide?  John Nesbitt and Alexandria Lovelace, the officers in charge of tour guide selection, say our guides must be "polished, excellent public speakers, able to think on their toes, outgoing, friendly, and able to make a group of nervous 16 year olds feel at home on our campus."  We also make an effort to collect a group of students that represent all 6,817 students from every geographic, academic, racial, ethnic, social, and cultural background so as to more accurately portray the real Vanderbilt story.  As unpaid volunteers who play a crucial role in our recruitment process, our tour guides are often provided fun incentives and invited to community-building events like service activities and fantasy football competitions throughout the course of the year.
Of course, the student input closest to my heart comes from our Inside 'Dores student bloggers.  If you haven't checked out the latest series of posts, go there now!  Our student blog offers a truly unfiltered view of Vanderbilt life through the eyes of those who are living it now and serves as the best "inside look" that you will find in the vastness of the interwebs.  With about 20 current contributors, we publish new material almost every day.  Our bloggers are recruited through on-campus advertising, social media, and appeals from various student liaisons.  While we obviously set a high bar for strength of writing, we are also looking for a distinct voice, unique point of view, and the same representative diversity we see from our office workers and tour guides.
Although I have been working as an admissions counselor for almost eight months now, I am still repeatedly blown away by the amazing young men and women that live, work, play, and learn right next to – and sometimes inside – my office.  While the input required of our students demonstrates the enormous amount of activity taking place at any point in our world, it does even more to prove how dedicated these students are to Vanderbilt itself and how eager they are to share their experiences with future Commodores.  I encourage each and every one of you to reach out to the students you encounter throughout your application experience to get the best possible perspective on what being a Vanderbilt student is really all about.