Spotlight on Research
I often hear from prospective students who are currently participating in their own research projects — independently, at their high schools, or even in collaboration with college students or professors at local universities — and want to continue to pursue research at Vanderbilt. So today we're going to shine a spotlight on undergraduate research opportunities at Vanderbilt!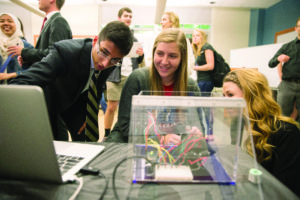 For students weighing their options about where to attend college, many may be facing the choice between a top-tier research university where they can continue this kind of research and a teaching-focused liberal arts college. At Vanderbilt, you don't have to choose! Our faculty prioritize undergraduate academic opportunities both in and out of the classroom, including research in labs, libraries, studios, and the field.
In recent years, about half of undergraduate students at Vanderbilt have completed at least one research project by the time that they graduate. There are plenty of ways to get involved with research as an undergraduate student. Many times, students get started on their path to a research project through conversation with professors, TA's, or graduate students. This is a great way for students to discover the types of research done at VU and find a topic they are passionate about. Vanderbilt students are encouraged to explore outside of their undergraduate school, and interdisciplinary research provides a great opportunity for this. While scientific and medical research may be the first things that come to mind when you hear the word "research," at VU, research is conducted across all academic disciplines including the humanities, natural sciences, education, engineering, social sciences, and creative arts. Here are some recent examples of undergraduate research at Vanderbilt:
"The Best Laid Plans: Strategic Incoherence in the Jacobite Rising of 1745" -Kathryn Fuselier, College of Arts and Science, Class of 2017, Doyleston, Pennsylvania
"Genetic Engineering to Investigate Extracellular Proteolysis in Synaptic Development and Autism Spectrum Disorder" – Jarrod Shilts, College of Arts and Science, Class of 2017, Hingham, Massachusetts
"Tambú Drumming in Aruba:  Music, Race, and Identity in the Caribbean" -Justin Westley, Blair School of Music, Class of 2018, Fort Myers, Florida
"Ultrasound Imaging to investigate Muscle-Tendon Dynamics During Human Movement" -Lauren, Branscombe, School of Engineering, Class of 2018, South Windsor, Connecticut
"Opportunities for Success: The Effect of Gender on Perceived Likeability" -David Pawlan, Peabody College, Class of 2019, Northbrook, Illinois
VU has more than 100 interdisciplinary centers and institutes, including the Vanderbilt Institute for Energy and the Environment, Vanderbilt Institute for Global Health, and the National Center on School Choice. Research opportunities are also available outside of the academic year through Vanderbilt Undergraduate Summer Research Program or Vanderbilt School of Engineering Summer Program.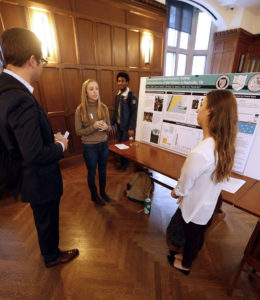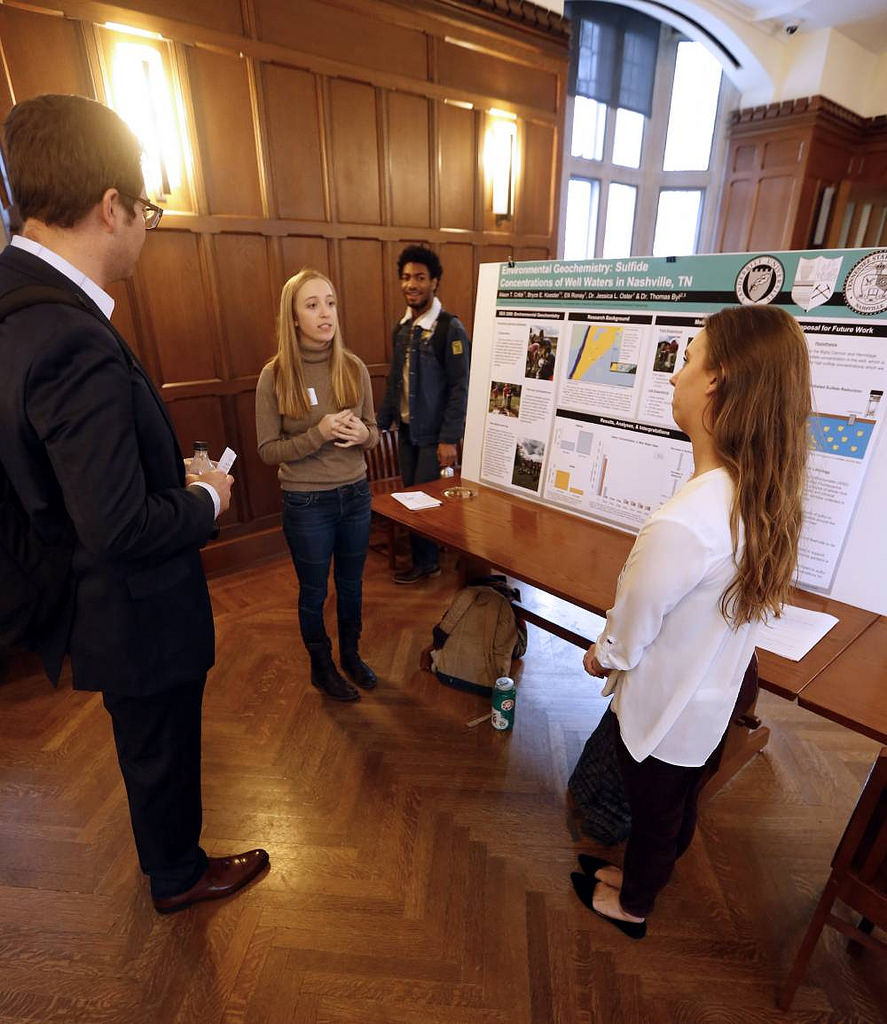 Once a research project is completed, students have the opportunity to show off all their hard work. They can apply to be published in the Vanderbilt Undergraduate Research Journal or to present at the Vanderbilt Undergraduate Research Fair. In addition to the opportunity to be published, research provides students with a chance to gain valuable lessons from professors and take part in their innovations and discoveries. Students involved in research are truly a part of a collaborative community of scholars building knowledge for future generations.
This is only a brief glimpse into what research is like at Vanderbilt, but I encourage you to explore the research website and to look at current news and research happening at VU in order to learn more. All Vanderbilt students are passionate about something and research is a great way to extend your passions beyond the classroom!