What do admissions counselors do in the summer?
Summertime is historically a bit quieter here on the Vanderbilt campus. Many of us are still in the office, debating the latest viral trend (like Yanny versus Laurel), and while it is a bit more calm here, we still find plenty of ways to keep busy. Here is a sneak peek into what we're up to these days.
Welcoming Visitors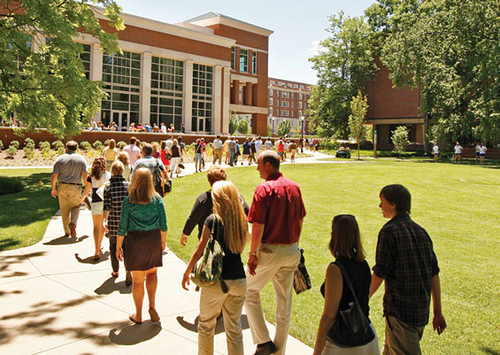 Summertime is a big time for visitors to come see us on campus. With twelve PreVU programs in June and July, we spend plenty of time welcoming visitors in the Nashville heat. If you are a rising senior, we hope you've added PreVU to your summer plans. We host guests for general information about admissions and financial aid, an overview of each of the four schools, a tour followed by lunch on campus, and a student panel with current students.
Vacations
Activity slows down quite a bit in the office from May through July, so that makes it a perfect time for us to take some time off to reconnect with our families, our friends, and ourselves. A few destinations for OUAers doing some personal travel this summer include locations like Australia, Iceland, Los Angeles, Ohio, and many other spots around the globe. Traveling for work has certainly taught me how to explore new places quickly, so I love traveling for pleasure now and find myself packing so much more into my trips than I ever did before.
Enjoying Nashville
There is SO MUCH going on in Nashville in the summertime. A lot of it involves music, including my personal favorite activity, CMA Fest, which ran from June 7 through 10. Another festival I need to get to this year is the Tomato Art Festival. This is a fun festival celebrating the humble tomato and includes a parade, costumes, contests, and even an attempt at a world record for "Largest Gathering of People Dressed as Fruits/Vegetables".
Planning for Fall Travel
Believe it or not, travel season is quickly approaching for us. We have been receiving invitations to college fairs, high schools, and other events since early this year, so during the summer we spend lots of time planning out what our fall travel will look like. Many of us will be traveling across the country for Road Shows, a series of programs that feature a media presentation led by admissions officers, a question-and-answer session, and alumni, current students, or Vanderbilt parents as speakers. Registration for Road Shows is open now, so check to see if we're coming to a city near you.
We hope the remainder of your summer is restful and enjoyable! Maybe we'll see you on campus soon for a tour or PreVU, or maybe we'll see you at a Road Show!