Vanderbilt's Net Price Calculator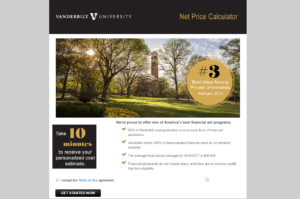 During your college search process, the question of how much will it cost is sure to come up. Well, you don't have to wonder about college costs, because we have a tool to help:  the net price calculator. This tool allows you to input information about yourself and your family's finances to find out an estimate of your need-based eligibility and out of pocket expenses. The net price calculator is different at each college, as it is based on how financial aid is awarded at that particular school. It is also a great tool as you review different admission decision plans. For example, early decision is binding, and it may be important for your family to know your estimated eligibility for need-based aid. So have you had the chance to check out Vanderbilt's Net Price Calculator? It just takes about 10 minutes to complete and receive your personalized cost estimate.
We are dedicated to making a Vanderbilt education possible through Opportunity Vanderbilt, our financial aid program which encompasses the following three important commitments: 
Our admissions process is need-blind for U.S. citizens and eligible not-citizens meaning that a family's ability to pay is not a factor in our admissions process.
We meet 100% of demonstrated financial need for all admitted students.
Financial aid awards do not include loans. This initiative does not include income bands or income cutoffs that limit eligibility.
Our average financial aid package for all undergraduates for 2017-2018 is $49,242 but it is important to know that financial aid packages vary among families. The best way to know what you may be eligible for is to use the net price calculator. For the 2018-2019 academic year, your 2016 income information will be used to determine your eligibility. It is important to make sure that you have your completed 2016 tax returns and W-2 statements available to complete the net price calculator as accurately as possible. Please note that the calculator is only as accurate as the information provided. <(Also, the net price calculator does not include merit scholarships — see this recent post to learn more about merit scholarships at Vanderbilt.) You are able to save your personalized net price calculator results to keep for your records or further discussion with a financial aid officer in the Office of Student Financial Aid and Scholarships. If your income stays relatively the same each year, then you can anticipate a similar need-based award each year.
Once you complete the net price calculator, feel free to reach out to the Office of Student Financial Aid and Scholarships to further discuss the information you received via email at finaid@vanderbilt.edu or phone at 1-800-288-0204.