How to Make the Most of College Fairs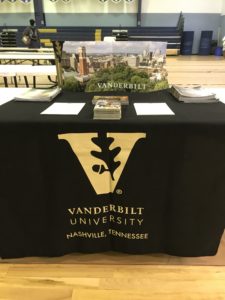 College fairs can be intimidating. Even as a seasoned admissions counselor, I still get wide-eyed when I walk into a room full of tables, and soon to be full of people, for the first time each season. College fairs are a great opportunity to learn about a number of different schools in one quick time period. Whether you're just starting the college search process, or you are finalizing your list of schools to which you will apply, college fairs provide you with an opportunity to collect vital information. Here are a few tips to help you make the most of your college fair experience.
When you arrive, get the lay of the land. How is the room laid out? Is it alphabetical? Are there additional rooms you need to visit, or special presentations going on? This will help you with the next step.
Make a game plan. Do you want to wander around and see what catches your eye? Or do you have a few schools you HAVE to talk to? Take a few moments to decide how you are going to tackle the room, and even make a list of schools you want to visit with.
It's okay to not have questions – as I mentioned earlier, this is a great time to gather information. You can always stop by a school's table, share a little bit about what you are interested in studying, and ask what they would have for someone with your interests.
Understand what questions you can get answered, and ask strategically. If you have very specific questions about classes, research going on within a department, or the exact number of athletic scholarships available within a specific sport, those questions are best sent to the experts within those specific areas.  You can always ask the admissions representative who you should contact, and we are happy to refer you to an expert if we cannot answer your questions.
Sticky labels and scanners are all the rage. If you are able to make sticky labels ahead of time, those will greatly speed up your time in joining the mailing lists of various institutions. Be sure to include your name, address, phone number, email address, high school, date of birth, and year of entry into college (in most cases, that's your graduation year) – that's usually the information schools are looking for. Plenty of fairs also offer students the opportunity to register for a free barcode that admissions representatives can quickly scan, so go ahead and do that!  And be sure to keep it handy – I've seen some students make it the background of their phone for the night. Genius!
Forge your own path, and don't be afraid to split up from your friends. College fairs can feel like a social event where you want to make sure you say hello to all your friends you don't see in class every day, and while that's great, this is also your time to think about how you want to spend the next four years.
Looking for more tips? Check out this previous post with even more tips on college fairs.
Vanderbilt admissions counselors will be at college fairs across the country this fall. Check out this listing to see many of the fairs we'll be attending. We hope to see you at a college fair this fall.