Class of 2021 – Regular Decision Summary Statistics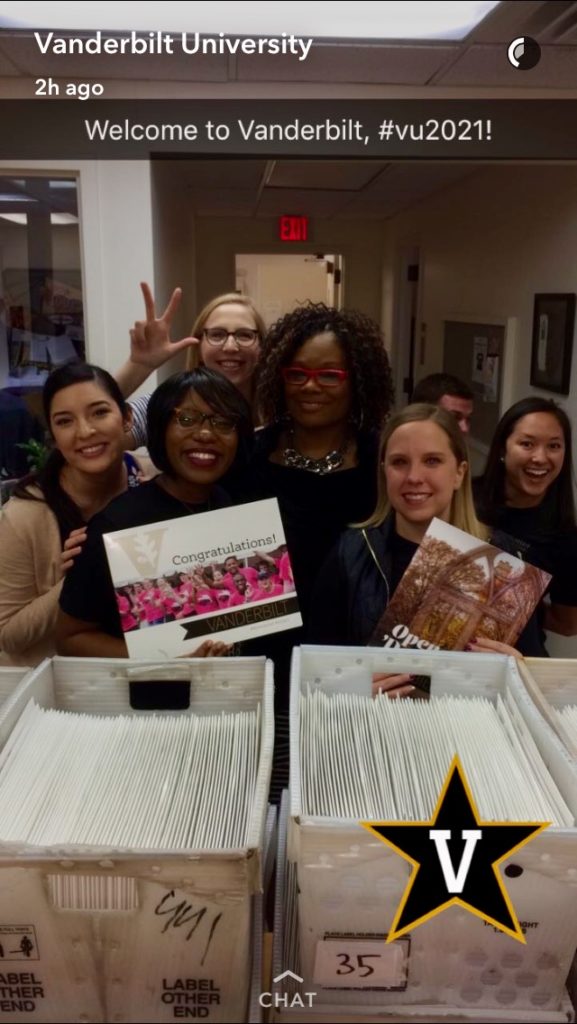 This week we announced admissions decisions for the Regular Decision portion of the Class of 2021, and put admit packets in the mail to newly admitted Commodores. Those packets are on their way across the country and around the world to an amazingly talented group, and we're excited to welcome them to the Vanderbilt community. You can see a statistical summary of our Regular Decision admissions plan below.
To our newest 'Dores, congratulations! Inside your admit packet you will find tons of information about Vanderbilt. We hope you'll join us at one of our Anchor Days or at one of the many other admitted student campus visit programs. We also hope to see you at one of the many Vanderbilt and You receptions we'll be holding in more than 20 cities. We've already seen many of you join the Official Class of 2021 Facebook group for admitted students, and we invite the rest of you to join as well in order to connect with other new students. We've also been excited to see many of you sharing your news on social media with the hashtag #vu2021 – here are some of the best ones we've seen so far!
Here is a statistical profile of the Regular Decision Class of 2021:
Regular Decision applications:  27,841
Admitted:  2,382
Admit Rate:  8.6%
Percent of students in the top ten percent of their graduating class:  96%*
Old SAT**
Middle 50% Critical Reading:  740-800
Middle 50% Math:  770-800
New SAT**
Middle 50% Evidence Based Reading and Writing: 710-770
Middle 50% Math: 720-800
Middle 50% ACT:  33-35
Percent of students who received one or more significant honors or held major leadership positions:  100%
*based on high schools that provide rank
** In March 2016, College Board began administering the redesigned SAT. We refer to SAT administrations prior to March 2016 as "Old SAT" and SAT administrations March 2016 and later as "New SAT."
From everyone at the Office of Undergraduate Admissions – from Dean of Admissions Douglas Christiansen and Director of Undergraduate Admissions John Gaines to all the admissions counselors, members of the Admissions Processing Center and Center for Data Management, student workers, tour guides, and student bloggers – Congratulations and Go 'Dores!
Welcome to Vanderbilt!