Class of 2021 – Early Decision Summary Statistics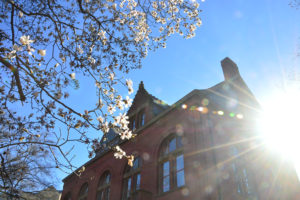 We've finished the Early Decision phase of our admissions process for the Vanderbilt Class of 2021, crunched the numbers, and now we have some summary statistics about our newest 'Dores. Our Early Decision admits are an incredibly talented, diverse, and engaged group, and we are thrilled they'll be joining our campus community this fall. Judging by the response we're seeing from them online, they're also pretty excited. Check out this collection of #2021 posts to see for yourself!
Here's a profile of the Vanderbilt Early Decision Class of 2021:
Percent of students who received one or more significant honors or held major leadership positions:  100%
Old SAT*
Middle 50% Critical Reading:  710-790
Middle 50% Math:  750-800
New SAT*
Middle 50% Evidence Based Reading and Writing: 710-760
Middle 50% Math: 730-790
Middle 50% ACT:  33-34
Percent of students in the top ten percent of their graduating class:  94%**
Early Decision Admit Rate:  23.6%
We thank each student who applied through Early Decision, and we welcome the new members of the Class of 2021. We can't wait to see you at The Commons on move-in day in August. In the meantime, you can get to know other 'Dores through the Official Class of 2021 Facebook group, and connect with VU through Twitter, Snapchat, Instagram, and other social media.
* In March 2016, College Board began administering the redesigned SAT. We refer to SAT administrations prior to March 2016 as "Old SAT" and SAT administrations March 2016 and later as "New SAT."
**based on high schools that provide rank