Life After Vanderbilt – Where is the Class of 2015?
What do Nobel Prize winners, professional athletes, U.S. ambassadors, Academy Award winners, tech entrepreneurs, and Grammy Award winners have in common? All of those accolades and more belong to Vanderbilt graduates. How about the class of 2015–where are they? Check out this infographic for a look at post-graduate plans and top employment destinations for our most recent Commodore grads*: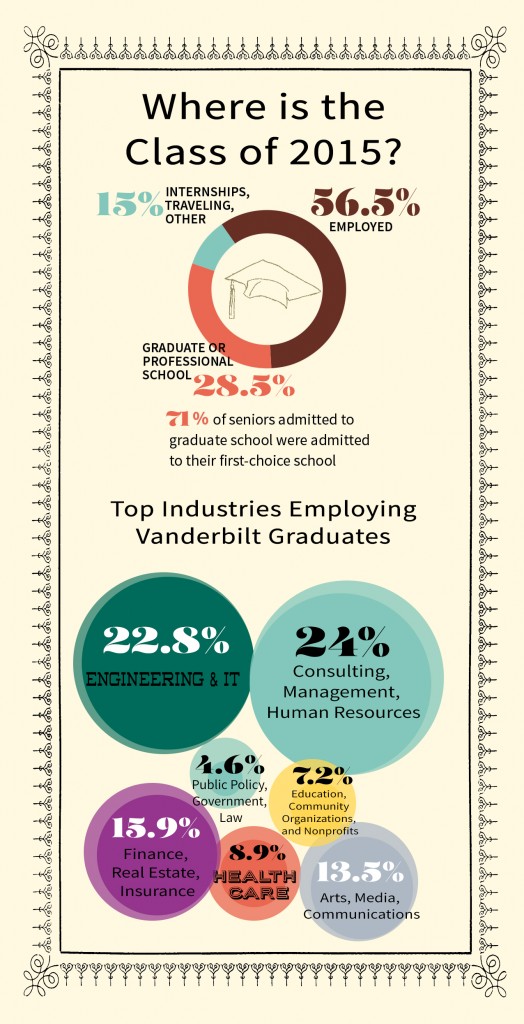 *This data comes from the 2015 Graduating Student Survey and represents student plans at the time of graduation.
In addition to the academic rigor of a top-20 school, Vanderbilt offers many opportunities to help students achieve career goals. One key resource is the Center for Student Professional Development, which exists to develop students' professional capabilities and prepare them for employment. The career coaches at the Center help students identify strengths and interests, understand and manage transitions, and identify personal and professional networks for their life after Vanderbilt.
The Center also works with top employers who come to campus to recruit Vanderbilt students. For example, last year:
6,130 jobs and internships were available through the Center's internal job board DoreWays.
1,861 companies recruited Vanderbilt students for jobs and internships through the Center.
1,734 interviews for jobs and internships were held on-campus at the Center.
Members of that graduating class went on to work at places like Apple, Bank of America, Merrill Lynch, Chevron, Deloitte, Google, LinkedIn, Tesla Motors, and The New York Times, among many other top employers.
Wherever your personal plans are headed, Vanderbilt offers a foundation for success. You can learn more about life after Vanderbilt at the Center for Student Professional Development web site and the Vanderbilt Alumni Association web site.