Introducing New Blogger Anisha Patel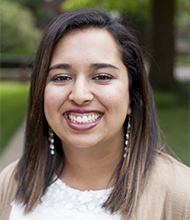 Hi everyone! My name is Anisha Patel, and like my colleague Zeben Ashton, I'm both a Vanderbilt admissions counselor and one of the newest members of the Vanderbilt admissions blogging team. I am so excited to share with you all my tips for navigating the admissions process, and stories from my time on the road as a representative of my Alma mater, Vanderbilt University!
I hail from Redwood City, California, right next door to both Atherton and Palo Alto in the Bay Area. At Vanderbilt (class of '14), I majored in both Art and English, and I was quite busy outside of the classroom: I was a Vanderbilt Ambassador, a junior curator for the Student Art Gallery in the E. Bronson Ingram Studio Arts Center, and I worked part-time in the Office of Undergraduate Admissions. My time in the Office of Undergraduate Admissions, as a student employee, is what truly led me to a career in higher education. I am so excited this year to be working with students from Northern California, including San Francisco, as well as Nevada and Utah. Within the Office of Undergraduate Admissions, I am also involved with CoRPs (Commodore Recruitment Programs-our alumni recruitment program), MOSAIC, and our Digital Recruitment Team.
I have spent a large portion of my life in California, but Nashville has truly become a place I can call home, and I can't imagine being anywhere else.  When I am not traveling to my territories to talk about Vanderbilt or reading applications, I often spend time with friends and colleagues eating at all the restaurants in Nashville. I could probably spend the good part of an hour gushing over all the amazing eats in Nashville that there are to discover, from favorite brunch places like Tavern to global cuisine, such as the amazing Cashew Chicken at Smiling Elephant, or even a gourmet popsicle (dipped in chocolate) at Las Paletas. The city of Nashville, its sites, concerts, and its good food are a huge part of what made Vanderbilt so memorable for me, and indeed one of the reasons I wanted to stay in Nashville.
I am thrilled to share with y'all my insights, not only into the college application process, but also the qualities of Vanderbilt, our campus, our community, and our location in the "It" city of Nashville, that makes Vanderbilt the place to be.
Anchor Down!