Rites of Spring is Coming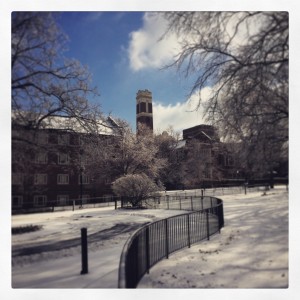 Last month, campus was in the grips of the biggest ice storm Nashville has seen in 20 years. For some students it was a great out-of-class learning opportunity, while for others it was a surprise day out of class. One thing was certain:  it was cold.
Though Vanderbilt was coated in a thick layer of ice, students were warmed by the announcement of this year's Rites of Spring concert lineup. The uncharacteristic cold may have had campus looking like a scene from Game of Thrones, but the annual Rites of Spring Music Festival gave students something to look forward to:  Rites of Spring is coming!
For those of you who are new to this Vanderbilt tradition, here's a primer. Rites of Spring is a music festival held on campus each year just before finals. Taking over Alumni Lawn for two solid days, Rites is a musical fete in the heart of campus. It's a well-deserved break for a year of hitting the books, and a celebration befitting a university in the middle of Music City. Past performers have included some of the biggest names in music:  Drake, Spoon, The Roots, Red Hot Chili Peppers, Kid Cudi, Sarah Barelles, Smashing Pumpkins, My Morning Jacket, Wiz Khalifa, Dave Mathews Band, and many, many more. An awesome tradition, right?
This year's lineup, put together by the student-run Vanderbilt Programing Board, includes a diverse slate of established and up-and-coming artists: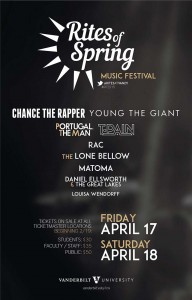 To get you ready for this year's Rites of Spring, we've created a Spotify playlist of highlights from this year's performers. Check it out below, and brace yourselves . . . Rites of Spring is coming!