Faculty View: First-year Writing Seminars, Part 1
For first-year students, the transition to college can be challenging. Living on your own, in a new city, with new people, balancing a rigorous academic load with tons of extracurricular options – it's not always easy. At Vanderbilt, students have plenty of support to make their first year a success. As residents on The Martha Rivers Ingram Commons, students have faculty heads of house and resident advisers to help with the transition to college. And for academic life, students enjoy a wide range of academic support.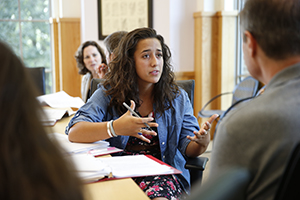 For students in the College of Arts and Science, the academic transition is also eased through First-Year Writing Seminars, in which faculty lead small groups of students in a discussion-based, writing intensive course. The professors for these courses help new students jump into the vibrant, participatory style of learning that they'll come to know at Vanderbilt, and their role is both as instructor and as a guide into college-level academics.
Because these faculty play a key role in introducing new 'Dores into the academic life of the university, I thought it would be interesting to get their point of view on the First-year Writing Seminar experience. I recently asked several professors for their thoughts on their courses and the students they've taught. I received so much positive feedback from the faculty, that it just won't fit into one post. What follows is the faculty view of First-year Writing Seminars in their own words, part 1:
Thomas Schwartz, Professor of History and Political Science
From Potsdam to Vietnam:  Era of American Preeminence
"Teaching first-year writing seminars, especially on topics related to postwar American history, is one of the most interesting and rewarding experiences I have had at Vanderbilt.  The students are extraordinarily eager to learn in the small class discussion format, and they bring to the seminar a real enthusiasm and passion.  Their own experiences with the America of the early 21st century, with the war on terror and the surveillance state, inspire them to offer fresh insights into such topics like the Cold War, McCarthyism, and Vietnam, which are the heart of the seminar.   My hope is always that this first learning experience encourages them to approach their Vanderbilt education with the same active and engaged manner which they have tackled the topics of the seminar."
Christina Rennhoff, Senior Lecturer in Economics
Comparative Health Care Systems
"Teaching the freshman writing seminar has been extremely rewarding.  Given the small class size, I am able to get to know the students personally and learn about their interests outside the classroom.  In my course, we explore controversial issues such as which type of health care system is most appropriate for the U.S.  Some students enter the class with very strong opinions about how the U.S. health care system should operate.  Other students have very little knowledge of these issues and enter the class wanting to learn more.  In either case, it is great fun to see how their viewpoints evolve over the course of the semester."
Gabriel Briggs, Senior Lecturer in English
Formations of American Identity
"The students that I teach are smart, fun, and engaged. They come to class prepared to explore and discuss what they have read. I am consistently impressed with their enthusiasm and interest. I have been fortunate to teach in a number of college environments, but none has been as invigorating and rewarding as my time at Vanderbilt."
Phillip I. Ackerman-Lieberman, Assistant Professor of Jewish Studies and Law
In a Pluralistic Age:  Jews, Christians, and Muslims in Spain
"What I really enjoy about the course is opening up students' eyes to the idea that behind every line they read in a scholarly book, or a journal article–or even a newspaper–is a world brimming with controversy and conflict. I try to show them how even their most tightly-held assumptions can be challenged. At times, I feel that this can be destabilizing, but I have the opportunity to encourage them to walk up to their necks in the sea of conflict and to help them learn how to swim through it."
Barbara Tsakirgis, Associate Professor of Classics and History of Art
Spectacle in the Ancient World
"Teaching first-year students about spectacle in the Greek and Roman world has always been an exciting experience for me.  Students often come to the course because they are intrigued by ancient sports- the Olympic Games and gladiatorial contests- but many become captivated by the spectacle of ancient theater and Greek religion.  I think that the visit to the Nashville Parthenon and the forty-two foot gold and ivory Athena has something to do with changing their perception!"
Stay tuned for part 2, for even more faculty insight into the First-year Writing Seminars at Vanderbilt.