VU's Updated Virtual Tour – A (Virtual) Walk in the Park
Summer:  a time for a break from the typical school routine. A time for summer jobs, summer travel, summer study – and maybe a little (or a lot of) sleeping in. For many students nearing the end of their high school careers, summer is also a time for college visits. In fact, today at Vanderbilt we have over 300 visitors here for PreVU, our in-depth summer visit program for rising seniors.
My high school summers were spent mostly at work – I was a lifeguard at a community center pool in my hometown. As a high school student, there aren't many better summer jobs than lifeguard, and I absolutely loved it. My work schedule, however, left me almost no time for college visits. If only there had been some other way to experience a college campus . . .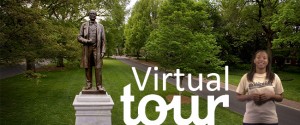 If you find yourself in a similar situation, don't worry, we have you covered with Vanderbilt's newly updated virtual tour. This is something I would have jumped for joy over back in the day.  With Vanderbilt's virtual tour, you get an interactive walking tour of campus led by current undergraduate student tour guides Jasmine Lawrence, Mina Haddad, Austin Vitaliano, Emmett McKinney, Pranjal Gupta, and Kenzie Lucas.
Along the tour route, you'll see the same sights you would on an in-person campus tour – and more. Just like the in-person tour, you'll visit iconic Vanderbilt stops like Alumni Lawn, Kirkland Hall, Central Library, and The Martha Rivers Ingram Commons. In addition, the virtual tour brings you to Warren and Moore Colleges, the Blair School of Music, and the Student Recreation Center, a few campus spots not currently on the in-person tour.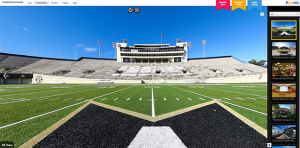 The virtual tour also gives you additional ways to explore campus. The 360-degree panoramas put you in the middle of some of Vanderbilt's most interesting locations, letting you pan and zoom to explore. Stand in the middle of Dudley Field, check out the newly renovated reading room in Alumni Hall, or browse around the Fine Arts Gallery in Cohen Memorial. The virtual tour also gives you access to dozens of other photos and videos of campus (including an amusing Vanderbilt Baseball dance-off video that you have to see to believe).
We're very excited to report that we've also improved the virtual tour experience for users on mobile devices. If you try the virtual tour on your smartphone or tablet, you'll have the same great experience as a desktop user. And if you're on campus but can't make it for a tour, you can even use the built-in GPS in your phone and the mobile virtual tour as a walking guide. And as if that wasn't enough, the virtual tour is even available in three languages:  English, Spanish, and Mandarin Chinese.
We love when students visit Vanderbilt in person to see campus, get a feel for the community, and to say hello to us. But if your summer plans won't let you travel to Nashville for a visit to Vanderbilt, check out the virtual tour.