It's Street Food Month In Nashville!
To most high school and college students, May is a very significant time of year.  The month of May brings warm weather, the end of another school semester, the beginning of pool season, and for some of us, the impending excitement and finality of graduation.
For Vanderbilt students and all Nashvillians, however, May has one more element of significance: Street Food Month.  That's right, our city has dedicated an entire month to the magical wonder that is food trucks.
Music City has long been known as a prominent destination for chefs and foodies as well as musicians, which made it no surprise when several of our best local culinary artists jumped on board as the food truck band wagon has swept the nation over the last several years.  Established culinary landmarks such as Jeni's Splendid Ice Creams and Pita Pit took their wares on the road, while new original trucks like The Grilled Cheeserie and The Waffle Boss pop up every year.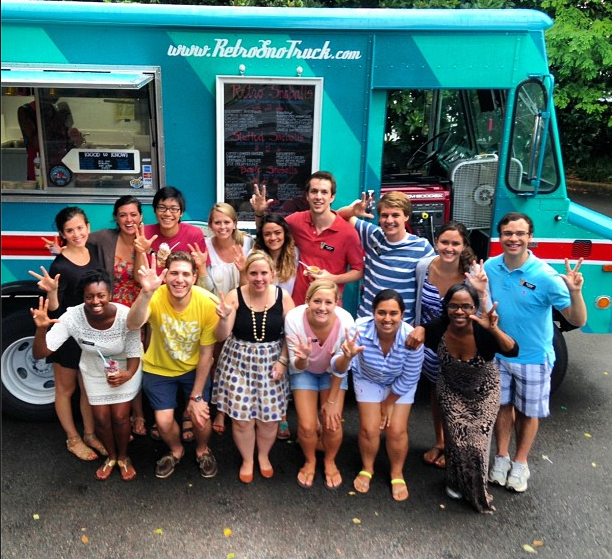 (For example, Retro Sno, a gourmet sno cone truck, showed up right outside our office last year on Student Worker Appreciation Day!)
This year, Nashville Street Food month kicked off with a downtown lunch event that featured 18 – count 'em eighteen – food truck options that served everything from crepes to pies to barbeque to donuts to chicken curry.  The kickoff event was so delicious that even Nashville mayor Karl Dean stopped by for a burger stuffed with cheese.  Several other street food events are scheduled throughout the month and most trucks will be featuring month-long specials on their custom foods.
Okay, is anyone else's mouth starting to water?  If you're planning a campus visit anytime this summer, make sure to stake out your food truck options ahead of time by following the Nashville Food Truck Association on Twitter.  Happy (street) eating!