Housing Options for Those Other Years
If you know anything about student life as a Vanderbilt undergraduate, you probably know about The Martha Rivers Ingram Commons – the 24/7 living learning experience that centers around 10 residential Houses and serves all Vanderbilt first year students.  What you may not know is that the Vanderbilt residential experience does not end with a student's time on The Ingram Commons.  In fact, all undergraduate students are subject to a four-year on-campus living requirement.
So if our first year students live on The Ingram Commons, where does everyone else live?  Vanderbilt upperclassmen have the option of living in one of 22 different residential buildings throughout our 330-acre campus, which is located in midtown Nashville.
Whether you are a prospective transfer student hoping to enter Vanderbilt in your sophomore or junior year, or even a high school student looking beyond that first year of college experiences, we thought it would be helpful to highlight the housing options available for those other years: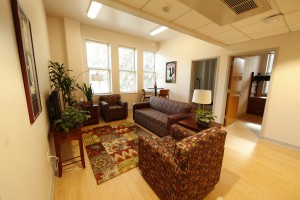 Warren College and Moore College:  The newest additions to the upperclassman residential options, Warren College and Moore College are also the latest stage of the College Halls residential program and will open their doors to their first residents in August of this year.  Undergraduate sophomores, juniors, and seniors will live in single rooms, double rooms, or 6-person apartment-style suites alongside faculty members and graduate students in this living-learning environment designed to mimic a small college community.
Alumni Lawn: Alumni Lawn serves as the location of Vanderbilt's commencement ceremony each May, but it is also the location of six of our upperclassman residence halls.  Vanderbilt Hall and Barnard Hall are located in one building (commonly referred to as Vandy-Barnard) and allow students to participate in leadership-building activities throughout the year.  Cole Hall and Tolman Hall are the university's only two completely single-sex dorms, and McGill Hall was founded alongside the McGill Project to promote free expression and discovery on campus.  McTyeire International House gives students the chance to practice their language skills and explore international cultures in their own homes.
Carmichael Towers: If you've ever driven by campus on West End Avenue, you've probably seen Carmichael Towers I, II, III, and IV – campus's four largest residence halls.  These buildings are made up of double and single rooms, as well as 6-person apartment-style suites with a kitchen, bathroom, and common room in each.  Perhaps the highlight of this housing option is Rocket Subs, the campus dining location that operates out of the basement of Towers III and IV.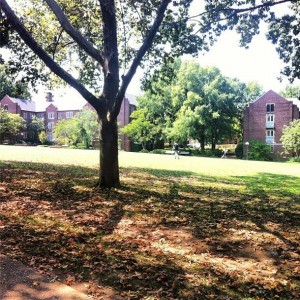 Branscomb Quadrangle: Lupton, Scales, Stapleton, and Vaughn Halls make up the Branscomb Quad, which is located conveniently between Sarratt Student Center, the Student Life Center, Greek Row, and Memorial Gym.  All four halls are made up of double rooms, and the quad also serves as the location of Ro*Tiki, an island-themed campus dining location.
Highland Quadrangle: Last but not least, Highland Quad is located right next to the newly renovated Recreation and Wellness Center and features four unique residential options for upperclassmen.  Morgan and Lewis Halls are made up of double and triple rooms in a traditional dorm layout.  The Mayfield Living Learning Lodges are available by application to groups of 10 students who will collaborate on a service or research project throughout the year.  Chaffin Place is made up of four-person apartments, and Blakemore House features single, double, and triple rooms.
With this many options to choose from, the only question is, where will YOU live as a Vanderbilt upperclassman?