Class of 2018 Decisions Available Online March 29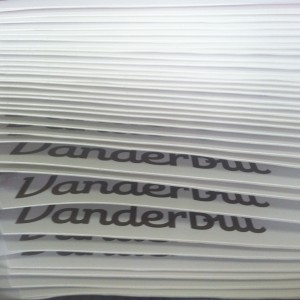 Tomorrow the Vanderbilt community is set to grow with the addition of the newest members of the Class of 2018. Admission decisions for first-year applicants will be available online exclusively in MyAppVU, our online portal for application management. Admitted student welcome packets will be hitting the mail tomorrow as well.
A few important details on accessing your decision:
As of March 29, applicants can log in to the MyAppVU portal to access admissions decisions. In addition, we recently emailed each applicant with a personalized URL which, beginning March 29, will lead you directly to your admissions decision.
If you have not yet created your MyAppVU account, you must do so now in order to access your decision on March 29.
If you are admitted, you can use MyAppVU to claim your spot in the Class of 2018 and pay your deposit by May 1, 2014.
If you are offered a spot on our wait list, you can use MyAppVU to claim your spot.  Indicating your interest here (and after any future email prompts) will help us shape the remainder of the Class of 2018.
If you experience any difficulty logging in to your MyAppVU account, please email myappvu@vanderbilt.edu for technical assistance.
Thank you. To everyone who applied this year we say "thank you." We're grateful you chose to apply to Vanderbilt and thankful for the effort you put into your application. Our holistic admissions process means that we spend an enormous amount of time getting to know the students who apply. And throughout the process this year, we have enjoyed learning about you and your accomplishments. We're truly impressed with the amazing things we have seen from students in this applicant pool.  As you'll see from the class profile summary below, the applications we received this year represent a highly accomplished, incredibly talented, and deeply committed group of students.
Admitted Class of 2018 Profile – Regular Decision only
Regular Decision applications: 26,293
Admitted: 2,892
Admit Rate: 11%
% of students in the top ten percent of their graduating class*:  93.8%
Middle 50% CR SAT:  740-800
Middle 50% M SAT: 750-800
Middle 50% ACT: 33-35
And 100% of students admitted Regular Decision held  major leadership positions or earned significant honors in high school :
71% were founders/presidents/captains/vice presidents or secretary-treasurers of a club or group (excluding sports teams).
46% earned an athletic award or held an athletic leadership position 93% earned an award or held a leadership position in a service or social club.
40% earned an award or held a leadership position in a fine arts club.
*based on high schools that provide rank
We are thrilled to welcome this incredible group of students to Vanderbilt!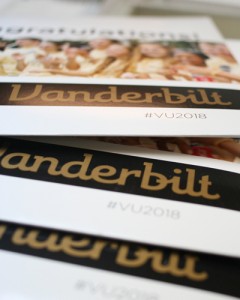 Congratulations. To those of you who have been admitted, welcome to the Vanderbilt community. We invite you to explore the Class of 2018 admitted student site to hear the inside story on Vanderbilt academics from current students, learn about student life on campus and in Nashville, or connect with other members of the Commodore class of 2018. You can share your news on Instagram, Twitter, or other social media with the hashtag #vu2018 and like the Class of 2018 Facebook page.
From all of us at the Office of Undergraduate Admissions – from Dean of Admissions Douglas Christiansen and Director of Undergraduate Admissions John Gaines to all the Admissions Counselors, members of the Admissions Processing Center, student workers, tour guides, bloggers – Congratulations and Go 'Dores!