4 Things You Need to Know About the Blair School of Music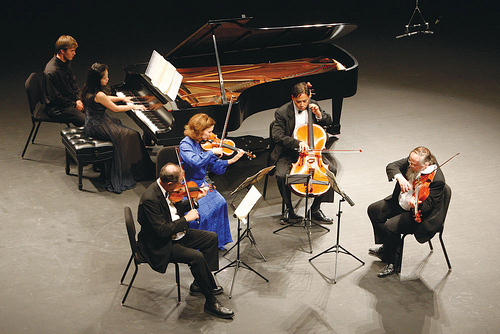 If you've applied to the Blair School of Music, then you know it's a unique combination of a top-notch music school at a highly regarded university. In fact, Vanderbilt is one of only three top-twenty universities in the nation to offer an undergraduate school of music. Today we take a look at some other unique characteristics that set Blair apart.
Blair's student to faculty ratio is 4:1. Because Blair is selective, enrollment is limited to approximately 200 students. This small size ensures numerous opportunities for students to study closely with world-class musicians on faculty. Blair faculty members are known both for their musicianship and their scholarship, with faculty involved in ensembles such as the Blair Woodwind Quintet and the Blakemore Trio, and in research on topics like American folk or African Music.
Blair is 100% Undergraduate. At Blair, undergraduates are the stars of the show. Blair's unique blend of conservatory-quality music training with excellent teachers, frequent performance opportunities, and great facilities is exclusively for undergraduates. Undergraduates perform and participate in research. Katie Walden, a current senior, describes her research experience at Blair:
"I was awarded a Vanderbilt Undergraduate Summer Research Program grant and I spent the summer conducting field research for my senior honors thesis, which explores connections between music, community, and sustainability in minor league baseball affiliates in the Southeast's music cities."
Blair is located in the #1 City for live music. They don't call Nashville "Music City" for nothing!  With venues ranging from the Schermerhorn Symphony Center to the Ryman Auditorium to the Bluebird Café to the honkytonks of lower Broadway, there are literally tens of thousands of concerts each year in Nashville – not to mention the hundreds of on-campus performances and recitals by students, faculty members, and visiting artists.
Blair offers joint undergraduate and masters programs. Though Blair is a small community of students and faculty, it is situated within the larger environment of Vanderbilt University.  Blair offers two joint master's programs that give students the opportunity to make the most of the resources that environment provides. The 3+2 B.Mus/MBA Blair-to-Owen Program allows a small cohort of musical arts majors to overlap their undergraduate coursework with work toward an MBA. The Five-Year Bachelor of Music/Master of Education Program combine's Blair's strengths with those of Peabody College of Education and Human Development to give students the opportunity to complete both degrees and earn teacher licensure in five years.  For more on these joint degree programs, see the Blair School of Music course catalog.